Men's track & field hosts Continental Invitational
---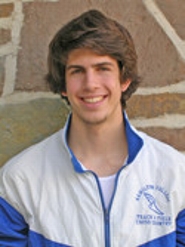 Hamilton College athletes finished first in two events as the Continentals hosted their own non-team scoring invitational at Pritchard Track on March 31.

Results

Weather conditions were not ideal for the outdoor track & field programs' first meet of 2012. It was cloudy with temperatures in the low 40s and 5 to 10 mph winds.

James Grebey '12 captured first place in the 1,500-meter run with a time of 4:08.25. Sam Dupuis '13 breezed to first place in the 5,000-meter run with a time of 16:26.29. Dupuis finished 33 seconds ahead of the runner-up.

Graham Sadler '14 was second in the high jump with a height of 1.83 meters (6 feet, 0 inches) and third in the javelin throw with a mark of 44.49 meters (145 feet, 11 inches). Matt Peterfreund '14 was just ahead of Sadler in the javelin in second place at 44.50 meters (146 feet).

Jimmy Alexis '13 was runner-up in the pole vault as he cleared 4.10 meters (13 feet, 5.25 inches). Jeffrey Blackburn '13 ended up second in the triple jump with a leap of 12.09 meters (39 feet, 8 inches). Will Tifft '14 finished seventh of 23 athletes in the hammer throw with a distance of 39.27 meters (128 feet, 10 inches).

Hamilton competes in Cornell University's April Open on Saturday, April 7.