Men's track & field hosts invitational
---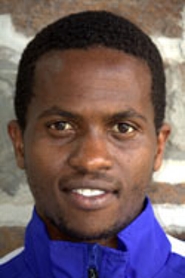 Peter Kosgei '11 finished first in the 3,000-meter run as Hamilton College hosted the non-team scoring Continental Invitational at a resurfaced Margaret Bundy Scott Field House on Jan. 22.

Several teams, including Williams College, Union College, Rensselaer, Nazareth College and Roberts Wesleyan University, came to Clinton, N.Y., to try out the renovated indoor track and field facility. The highlight of the renovation -- completed in September 2010 -- is a state-of-the-art track surface.

Kosgei finished more than seven seconds ahead of the runner-up in the 3,000 meters with a time of 8:40.35. Kosgei -- a three-time national champion in indoor track -- is competing again after taking last season off to concentrate on his studies.

James Grebey '12 finished third in the mile run just .10 seconds behind the winner with a time of 4:33.78. Devon Lynch '11 was fourth in 4:42.67. Scott Bickard '11 finished fourth in the 3,000 meters with a time of 8:56.25. Sampson Reider '14 took fifth place in the 400-meter dash in 52.93 seconds, and Ben Yeo '14 was sixth in the 800-meter run in 2:09.65.

Ricardo Welch '14 enjoyed a solid first meet at Hamilton as he finished seventh in the finals of the 55-meter dash (6.90 seconds), and fifth in the high jump. Welch cleared 1.78 meters (5-foot-10). Joshua Orndorff '11 ended up sixth in the shot put with a mark of 12.37 meters (40-feet-7).

The Continentals compete in an invitational at Colgate University on Saturday, Jan. 29.