Men's track & field places 10th at NESCAC championships
---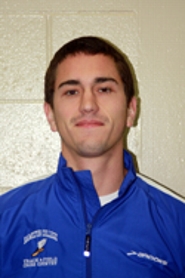 Hamilton College finished 10th out of 11 teams at the 2012 NESCAC men's and women's track & field championships at Bates College's Russell Street Track in Lewiston, Maine, on April 28.

RESULTS

Graham Sadler '14 claimed the high jump title with a height of 1.94 meters (6 feet, 4.25 inches). Sadler cleared the bar on his first try five straight times before he failed on three attempts at 1.98 meters, which would have tied the school record. Jake London '14 tied for seventh place in the same event with a height of 1.81 meters (5 feet, 11.25 inches).

Jimmy Alexis '13 took sixth place in the pole vault as he cleared 4.20 meters (13 feet, 9.25 inches). Will Tifft '14 was ninth in the hammer throw with a distance of 42.10 meters (138 feet, 1 inch).

James Grebey '12 finished seventh in the 1,500-meter run with a time of 4:03.43. The Continentals posted 15.75 team points, while Bates College captured the team title with 156.25 points.

Hamilton competes in the 2012 New York State Collegiate Track Conference outdoor championships at the University of Rochester on Friday and Saturday, May 4 and 5.