Men's track & field places 10th at state championships
---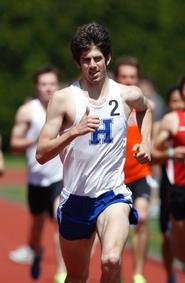 Hamilton College placed 10th out of 11 teams at the 2012 New York State Collegiate Track Conference outdoor championships, which were held at the University of Rochester's Fauver Stadium on May 4 and 5.

James Grebey '12 and Hashem Zikry '13 qualified for the 2012 Eastern College Athletic Conference Division III outdoor track and field championships at Rensselaer on Thursday and Friday, May 17 and 18. Both earned NYSCTC all-conference honors for finishing third in their respective events. The top three finishers in all individual events make the all-conference team.

Grebey posted a time of 3:56.31 in the 1,500-meter run. This is the third straight year he has made the all-conference team for the 1,500 meters. Zikry recorded a time of 15:07.32 in the 5,000-meter run.

Graham Sadler '14 ended up fourth in the high jump with a height of 1.93 meters, which was just off his season-best mark of 1.94 meters. Jimmy Alexis '13 was fourth in the pole vault as he cleared 4.05 meters, and Matthew Peterfreund '14 placed fifth in the javelin throw with a distance of 47.49 meters.

Hamilton racked up 26 team points and Rensselaer won the team title with 172.5 points.