Men's track & field places eighth at St. Lawrence Invite
---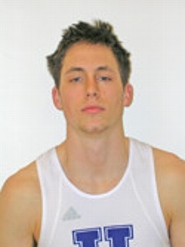 James Russell '09 set a school record in the pole vault and Hamilton College placed eighth in an 11-team field with 20 points at the St. Lawrence University Invitational at Newell Field House on Jan. 24.
Russell finished first in the pole vault at 4.57 meters (15-feet-0). His mark breaks a 3-year-old school record of 4.55 meters set by Kyle Graham '06.
TiDelco Ductan '09 recorded Hamilton's other event victory. Ductan captured first place in the triple jump at 13.31 meters (43-feet-8). Will Reid '10 placed seventh in the 5,000-meter run with a time of 16:13.77. Keith Gross '09 and James Grebey '12 landed in ninth place in different events. Gross ran the mile in 4:41.81 while Grebey finished the 800-meter run in 2:05.41.
Hamilton travels to Colgate University for the Class of '32 Invitational on Saturday, Jan. 31.