Men's track & field places sixth at state championships
---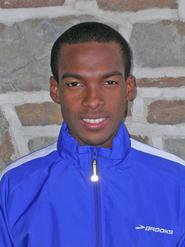 Hamilton College athletes finished first in three events and the Continentals ended up in sixth place at the nine-team New York State Collegiate Track Conference indoor track and field championships, which were held at the Rochester Institute of Technology's Gordon Field House on Feb. 27 and 28.
Hamilton collected 44 points during the two-day meet. St. Lawrence University took home the team title with 181 points. The top three finishers in each individual event plus the winning relays earn all-conference honors.
TiDelco Ductan '09 was voted the Field Performer of the Meet after he captured first place and broke his own school record with a mark of 14.60 meters (47-feet-11) in the triple jump. Ductan's previous record was 14.31 meters, which he set just seven days ago. His jump improved his NCAA championship provisional qualifying mark, and missed automatic NCAA qualification by just .05 meters.
The distance medley relay of Keith Gross '09, Cam Gaylord '09, Cuffie Winkler '10 and Peter Kosgei '10 also broke a school record and finished first with a time of 10:10.85. The previous record was 10:15.76, which was set in 2008. The time was good enough to get the quartet into the Eastern College Athletic Conference Division III championships.
Kosgei picked up another victory in the mile run. His time of 4:12.82 was better than his previous NCAA provisional qualifying mark of 4:14.19.
Josh Orndorff '11 took third place in the shot put with a distance of 13.90 meters (45-feet-7¼). The mark was a season best for Orndorff.
The ECAC Division III championships will be hosted by Tufts University on Friday and Saturday, March 6 and 7.