Men's track & field places third at league championships
---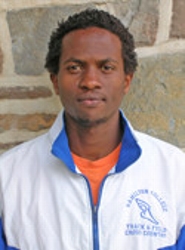 Peter Kosgei '10 won two events and Hamilton College placed third at the Liberty League indoor track & field championships held at St. Lawrence University's Newell Field House on Feb. 14.
The Continentals scored a total of 68 points. St. Lawrence amassed 190 and captured the team title. The top two finishers in each individual event and members of the winning relays earn all-league honors.
Kosgei claimed the top times in the mile run (4:22.91) and in the 800-meter run (1:57.71). He qualified for the Eastern College Athletic Conference Division III championships in the mile and for the state meet in the 800. Keith Gross '09 ended up sixth in the mile with a time of 4:31.75.
TiDelco Ductan '09 recorded the Continentals' only other event victory with a mark of 13.90 meters (45-feet-7¼) in the triple jump. Ductan finished first in the event for the fifth straight meet. He just missed breaking his own school record of 13.92 meters. He also finished sixth in the long jump with a leap of 6.15 meters (20-feet-2¼).
James Russell '09 placed second in the pole vault as he cleared 4.36 meters (14-feet-3½). Josh Orndorff '11 took third place in the weight throw at 13.34 meters (43-feet-9¼) and finished fourth in the shot put at 12.87 meters (42-feet-2¾).
Will Reid '10 finished sixth in the 5,000-meter run with a time of 15:45.37. Berk Ildiz '12 also finished sixth in the triple jump with a distance of 12.27 meters (40-feet-3¼).
Hamilton competes in Cornell University's Denault Invitational on Saturday, Feb. 21, at 11 a.m.