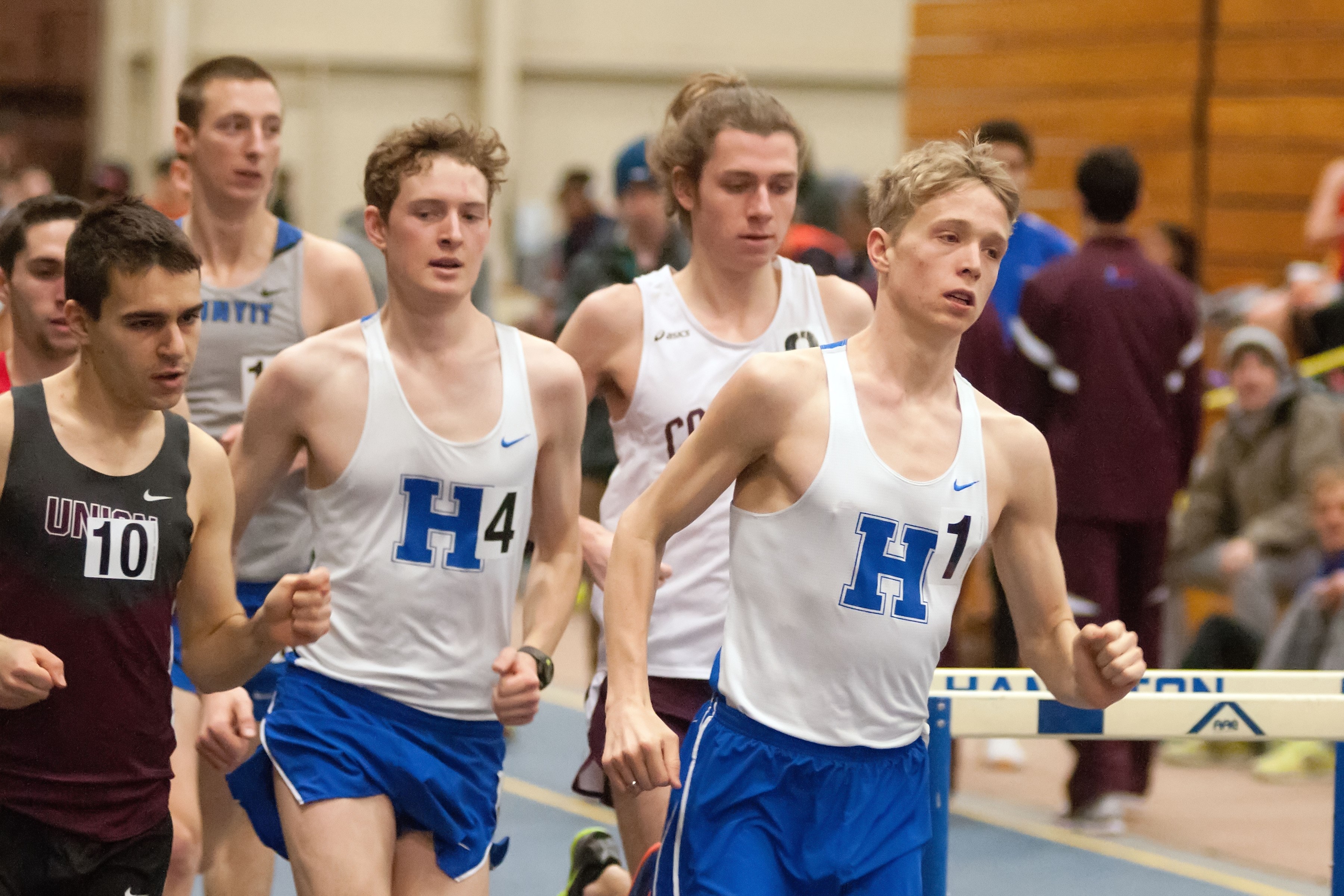 The Hamilton College men's track & field team placed second at SUNY Brockport's Midseason Classic. The Continentals scored 84 points, trailing only the host Golden Eagles in the team standings.

Complete results

Joe Jensen '15 posted a pair of first-place finishes, winning the 200- and 400-meter dashes. He posted a first-place time of 22.32 seconds in the 200 and won the 400 in 49.20 seconds. He's ranked second in Division III in the 400 and third in the 200. He also took sixth place in the 60-meter dash with a finals time of 7.65 seconds after running 7.15 seconds in the preliminaries.

Eli Saucier '18 recorded one of Hamilton's two second-place showings, running 23.13 seconds in the 200. Saucier also placed seventh in the 60-meter dash (7.72) and eighth in the 400 (52.61).

Jack Pierce '17 was runner-up in the 3,000-meter run with a season-best time of 9:09.61.

Christian Belardi '18 finished fifth in the 60-meter hurdles (8.73). Three Continentals scored points in the 800-meter run with Jonathan Stanhope '18 third in 2:00.03, Grant Whitney '17 fourth in 2:00.12 and Sam Pastore '18 fifth in 2:02.12.

Peter DeWeirdt '18 finished fourth in the mile run (4:33.69) with Evan Abelson '16 in eighth place in 4:35.50. Daniel Baer '15 was seventh in the 5,000-meter run with a season-best 15:52.16 and Nate Somes '16 took seventh in the 400 meters (52.52).

Preston DeLaurentis '18 was fourth in the triple jump (12.96 meters/42 feet, 6.25 inches) and eighth in the long jump (6.09 meters/19 feet, 11.75 inches). Dylan Berardelli '16 rounded out Hamilton's individual scorers, placing eighth in the 35-pound weight throw (13.85 meters/45 feet, 5.25 inches).

Whitney, Stanhope and Somes joined Matt McCarron '17 to finish third in the 1,600-meter relay (3:35.08).

The Continentals compete at Colgate University's Class of '32 Invitational next Saturday, Feb. 14.