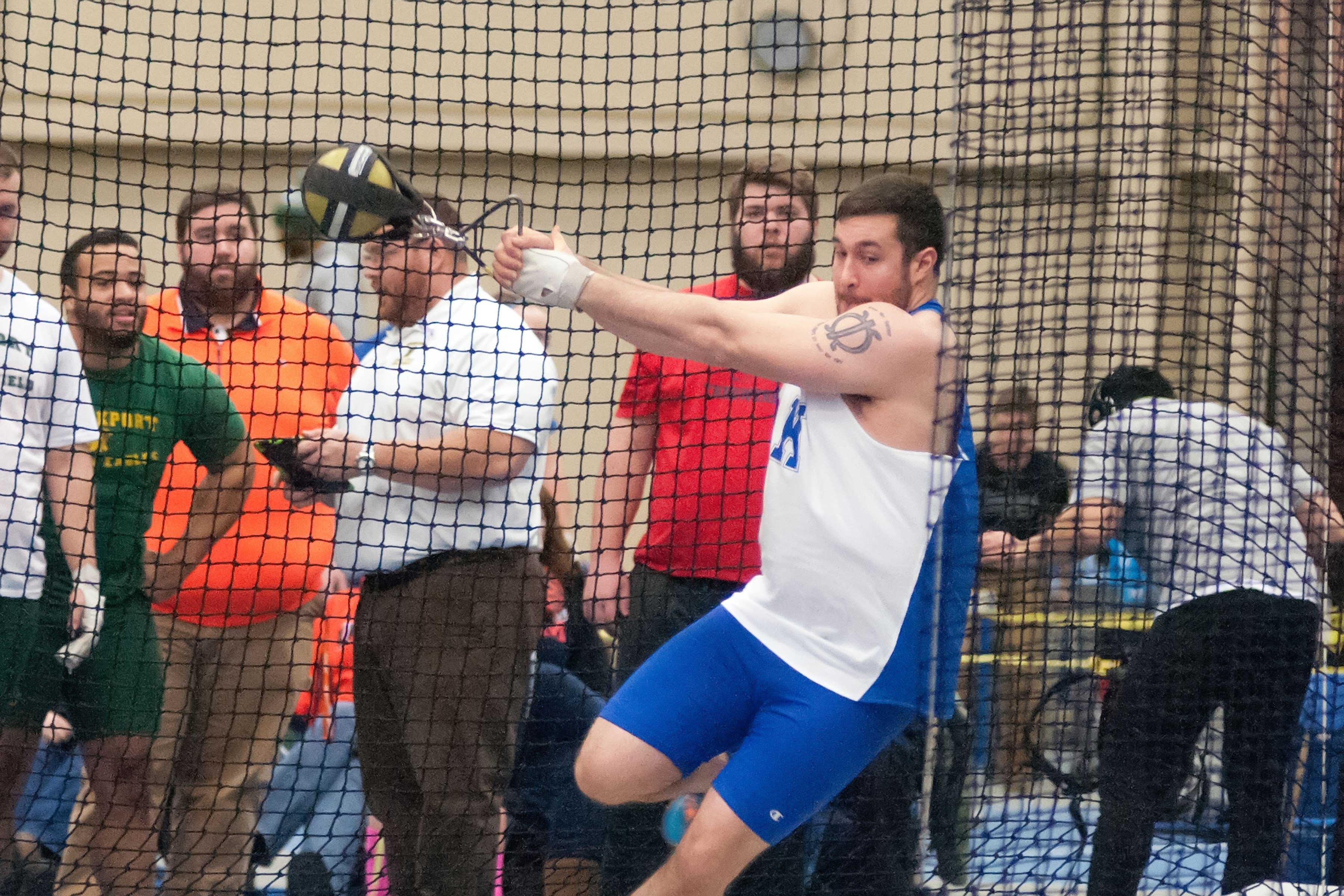 The Hamilton College men's track & field team captured the team title at Colgate University's Class of '32 Invitational on Saturday.

Complete results

The Continentals, who broke two school records, scored 148 points to top runner-up Delhi College (135 points). Hamilton is 29th in the U.S. Track & Field and Cross Country Coaches Association Division III computer rankings.

Dylan Berardelli '16 and Joe Jensen '15 turned in Hamilton's record-setting performances. Berardelli's mark of 15.67 meters (51 feet, 5 inches) in the 35-pound weight throw topped the 26-year-old previous standard – the program's third-oldest field record -- by 0.36 meters. He took third in the event and finished second in the shot put (13.32 meters/43 feet, 8.5 inches).

Jensen set a school and facility record in the 500-meter dash, winning the race in 64.40 seconds. He now owns six school records, including all five distances from 60 meters to 500 meters. Jensen also won the 200-meter dash, finishing in 22.17 seconds.

The Continentals won two other events, including the 3,000-meter run where Daniel Baer '15 led a quartet of Hamilton runners who combined for 28 points. Baer's winning time of 9:00.45 was followed by Jack Pierce '17 (second in 9:02.15), David Freeman '16 (third in 9:06.75) and Evan Abelson '16 (fifth in 9:15.13).

Christian Belardi '18 took first place in the 60-meter hurdles, winning in a season-best 8.66 seconds. Preston DeLaurentis '18 was fourth in 9.18 seconds. He also placed second in the triple jump (13.16 meters/43 feet, 2.25 inches) and leaped 6.03 meters (19 feet, 9.5 inches) in the long jump to finish fifth.

Peter DeWeirdt '18 ran the mile in 4:30.15 to finish second. He was followed by three teammates: Adam Pfander '16 (fourth in 4:31.79), Andrew Sinclair '18 (seventh in 4:44.60) and Nathan Arndt '16 (eighth in 4:46.09).

Hamilton took second in a pair of relays. The foursome of Jensen, Eli Saucier '18, Leonard Kilekwang '16 and Nate Somes '16 ran the 1,600-meter relay in 3:27.71. In the 3.200-meter relay, Grant Whitney '17, Jon Stanhope '18, Sam Pastore '18 and DeWeirdt finished in 8:10.86.

Kilekwang was fourth in the triple jump (12.66 meters/41 feet, 6.5 inches) and Pastore took fourth in the 500-meter dash (1:10.54).
In the 1,000-meter run, Stanhope placed fourth in 2:40.61 and David Kibazo '18 was eighth in 2:45.69. Rico Gonzalez '16 cleared 3.60 meters (11 feet, 9.75 inches) in the pole vault, good for fourth place.

Grant Whitney '17 was fifth in the 800-meter run (2:00.62) and Somes took seventh in the 400-meter dash (52.43).

The Continentals are back in action on Friday, Feb. 20, competing at Ithaca College's Bomber Quadrangular.