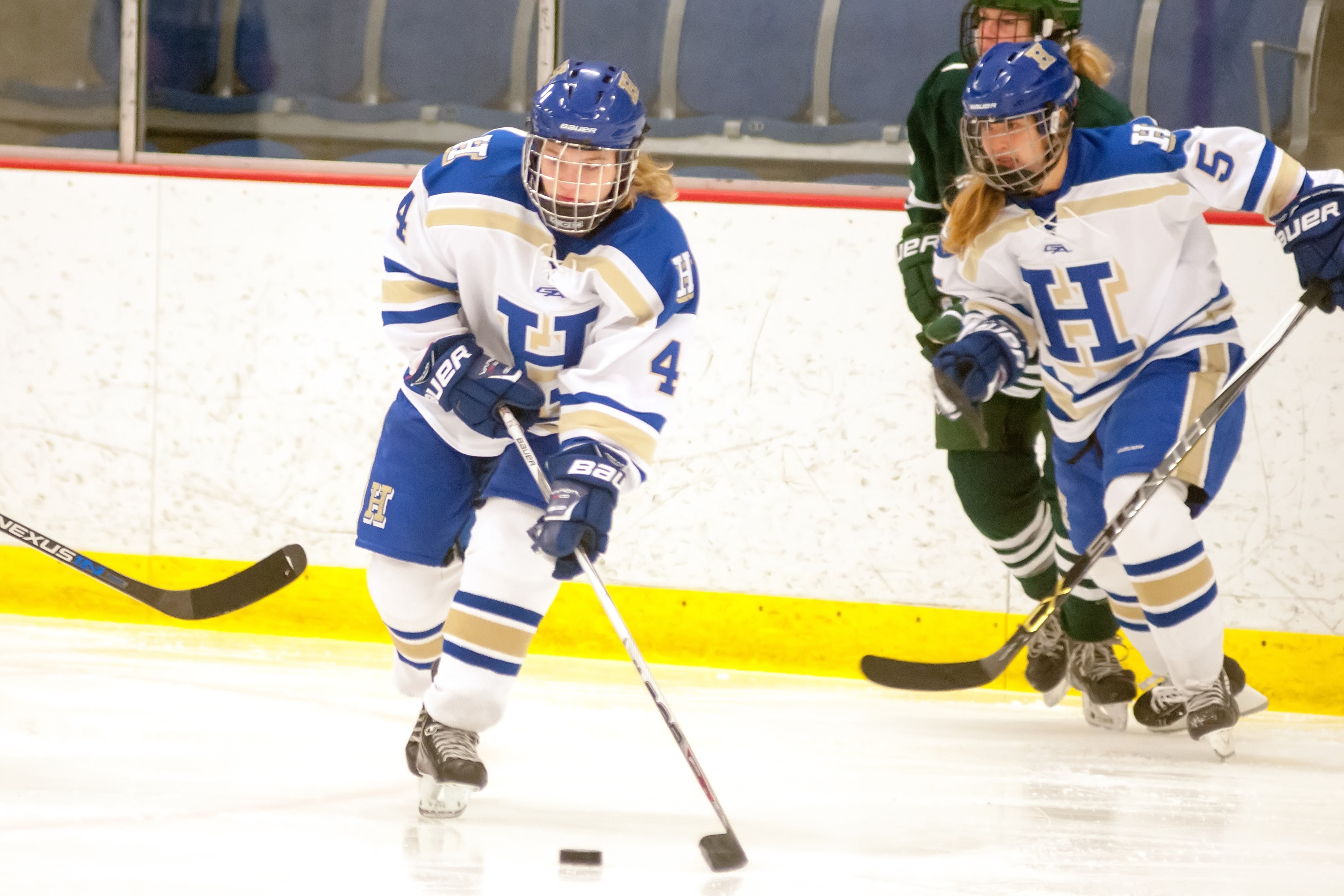 The Hamilton College women's hockey team opened play at the DoubleTree Classic with a 3-0 shutout of host Saint Michael's Friday in South Burlington, Vt. The Continentals, the tournament's defending champion, are 4-1-1 in their last six games.

Box score

Hannah Bartlett '16 scored a pair of goals and Jaime Meroz '19 earned a shutout in her collegiate debut.

The Continentals (5-3-1 overall) scored a goal in each period en route to their third shutout of the season (two short of the program's year-old single-season record). Bartlett's two-goal game was her third of the season, giving her a team-leading 10 points this winter.

Jade Alvillar '18 opened the scoring with her first goal of the season, skating above the right faceoff circle and tucking a shot inside the near post with 1:40 left in the first period. Andrea Rockey '19 and Casey Brown '16 assisted on the goal, with Rockey picking up her first career point on the play.

Bartlett added a goal in each of the final two periods, with Olivia Hawes '19 assisting on both. Hawes and Bartlett turned a two-on-one break into Hamilton's second goal just over eight minutes into the second. Bartlett received a pass at the blue line, deked a Purple Knight defender and beat goaltender Abby Burke with a shot into the upper right corner from the high slot.

Hawes set up Bartlett again late in the third, sending a pass from behind the net to the high slot. Bartlett couldn't get a solid shot off initially but maintained enough control of the puck to put it in the net. Alvillar was also credited with an assist – her first of the year.

Meroz faced a total of 26 shots, including five during the Purple Knights' two power-play opportunities. She made 14 stops in the second period. She's the sixth Continental to record a shutout in the last four years.

Burke finished with 33 saves for Saint Michael's (3-8-1).

The two-day tournament concludes Saturday with Hamilton facing Plymouth State at 1 p.m.