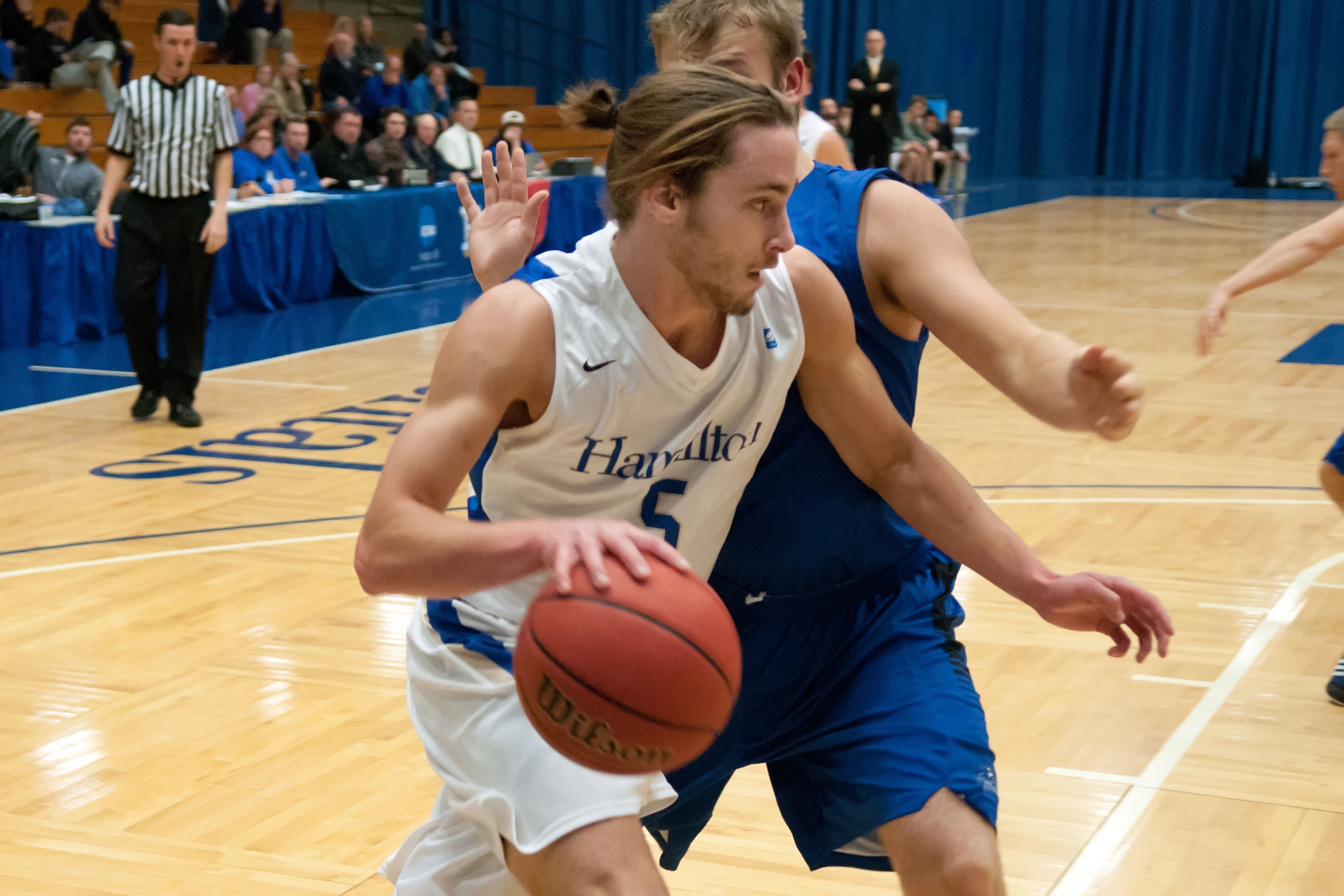 The Hamilton College men's basketball team erased a 10-point second-half deficit to force overtime before the host Middlebury College Panthers outscored the Continentals 17-12 in the extra session for an 82-77 NESCAC win on Sunday. Hamilton trailed by four points with 15 seconds left in regulation before rallying to tie the score.
Box score

Peter Kazickas '15 and Joseph Lin '15 connected on 3-point baskets in the final seconds after the Panthers had taken a 63-59 lead on a pair of free throws with 35 seconds to go. Kazickas made a career-best five 3-pointers with the last one coming with 14 seconds left. After Middlebury's Matt St. Amour '17 made a pair of free throws to push the hosts' advantage up to 65-62, Lin tied the game with a 3-point basket five seconds later.

The Panthers missed two chances at the winning basket in the waning seconds of regulation before taking control in the overtime session. They made 11 of 13 free throws, finishing the game 24 of 29; Middlebury outscored Hamilton 24-7 from the free-throw line. St. Amour made all six of his overtime attempts (he was eight-for-eight in the game) and Dylan Sinnickson '15 connected on all four of his tries.

Middlebury's Matt Daley '16 and Hamilton's Jack Donnelly '16 traded baskets to start overtime before a layup by Hunter Merryman '15 and St. Anour's six free throws pushed the Panthers' lead to eight points.

Kazickas led Hamilton (13-7, 1-5 NESCAC) with 21 points, matching a career high, and six rebounds. He made four first-half 3-pointers and added personal-best totals of five assists and four steals. Lin, who ranks fifth nationally in assists, led all players with nine to go along with 17 points.

Sinnickson and Daley combined for 37 rebounds as the Panthers dominated the boards, outrebounding the Continentals 59-26. Sinnickson finished with 23 points and 21 rebounds; Daley contributed 18 points and 16 rebounds. Merryman matched Sinnickson with 23 points.

The Panthers (14-4, 3-3) used a 14-5 run midway through the opening period to take a 25-13 lead with Merryman and Sinnickson netting nine of the points. Kazickas knocked down three 3-pointers and added a layup in the final seven minutes as the Continentals pulled to within 35-31 at intermission.

Middlebury maintained its advantage for all but the final five seconds of the second half, pushing the lead back to 10 points at the 10:34 mark. Lin, who scored 14 of his points after halftime, and Donnelly sparked Hamilton's rally. Donnelly finished with 14 points, two shy of his career best.

Ajani Santos '16 finished with eight points and a pair of blocked shots for the Continentals. Kyle Pitman '17 scored eight off the bench.

Hamilton opens a weekend NESCAC series on Friday, Feb. 6, with a 7 p.m. game at Tufts University. The Panthers host Keene State in non-conference action on Tuesday.