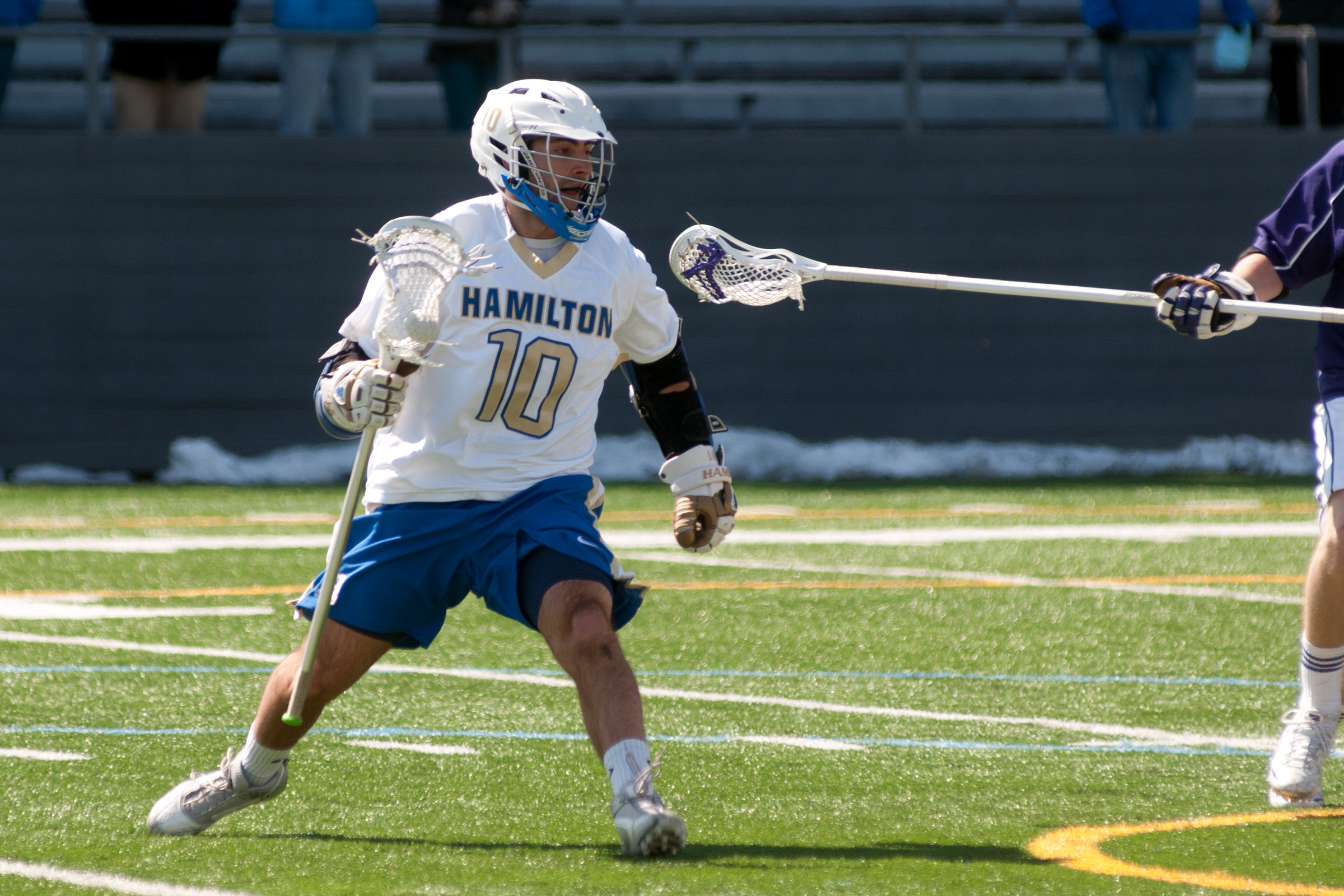 The Hamilton College Continentals lost 12-6 against the Middlebury College Panthers in a NESCAC game at Hamilton's Steuben Field on Wednesday afternoon.

Box score
The Panthers (4-5, 3-3 NESCAC) scored six of the last seven goals after the Continentals had forged a 5-5 tie late in the third quarter.

Hamilton (3-7, 0-6) scored three straight goals to pull even with 5:16 left in the third. John Zimmerman '15 had a hand in all three, scoring the first two and assisting on the tying goal scored by Sam Sweet '16. Middlebury retook the lead on a goal by Brian Ayers '14 with a minute left and sealed the win by scoring the first five goals of the fourth quarter.

Jack Cleary '16 led the Panthers with three goals and Jon Broome '16 contributed two goals and three assists. Cleary capped a 4-0 Middlebury run with his second goal of the game 2:51 into the second half. That goal put the Panthers up 5-2 and came in the midst of a stretch when Hamilton was held scoreless for a span of 25:10, including the entire second quarter.

Hamilton's Paul Armideo '14 scored his first two goals of the season and put the hosts up 2-1 midway through the opening period. Middlebury scored three times in the final 2:41 of the half, including two goals in the last 32 seconds, and took a 4-2 lead into the break. Jack Rautiola '16 scored his 11th goal to start the stretch and assisted on a goal by Stephen Seymour '14 with five seconds left. Seymour's goal came 27 seconds after Broome scored his first goal of the day.

Zimmerman raised his total to a team-leading 32 points. Trip Connors '17 led Hamilton with five ground balls, Sellers Garrett '16 caused a pair of turnovers and Will Driscoll '15 stopped nine shots.

Middlebury's Cal Williams '15 led all players with seven ground balls. Broom collected six more and Tim Giarusso '16 and Darric White '14 contributed five apiece to help the Panthers to a 33-24 advantage. White and Harrison Goodkind '16, who won 11 of 18 faceoffs, added two caused turnovers each. Nate Gaudio '14 made 10 saves to earn the win.

Chase Clymer '15 and Joseph Zelkowitz '17 scored their first goals this season during Middlebury's six-goal fourth quarter. Rautiola assisted on three Panther goals.

The Continentals play their final home game of the regular season on Saturday, April 5, against nationally ranked No. 6 Tufts University at 1 p.m. Middlebury hosts Bates College for another NESCAC contest on Saturday afternoon.