Milton Marathon Takes on Paradise Lost
---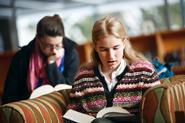 Some visitors to Burke Library on Feb. 27 were sidetracked by a group of readers in the browsing area who were participating in the second Milton Marathon. Organized by Margaret Thickstun, the Elizabeth J. McCormack Professor of English, the event featured a day-long reading of Milton's epic poem Paradise Lost.
Members of Thickstun's English 228 class took turns reading aloud the books of the poem over the course of the day. President Joan Hinde Stewart, Professor of English Onno Oerlemans and Dean of Students Nancy Thompson were among faculty and administrators who also stopped in to read sections.

Tory Grieves '12, who took Thickstun's Milton class last year, was one of several students who came back to participate in the marathon again. "I'm doing it again this year because I'm not in the course and it's a nice way to come back and look at Paradise Lost again. I think it's really great that different members of the community come together to talk about Paradise Lost and read it," Grieves remarked.