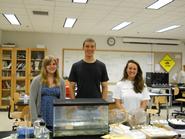 When working with human afflictions such as hypothyroidism and diabetes, researchers find it beneficial to study model organisms that can exhibit the same conditions. Animals such as mice and turtles, for example, can provide insight about the biological traits and medical conditions they share with humans. This summer Melanie Hundt '13, Nicole Nietlisbach '13 and Max Vaickus '12 examined hypothyroidism and diabetes in mice and tested for the hormone ghrelin in turtles. The students worked with Professor of Biology David Gapp.
The group's project involved hypothyroidism in mice. They administeredthe drug Propylthiouracil (PTU), which induces hypothyroidism in mice by interfering with the production of hormone thyroxine. While it has been established that doses as low as 2.5 percent PTU in food are enough to affect mice, their goal was to find the lowest possible dosage that will induce hypothyroidism, which manifests itself as weight loss in this species. Because thyroxine also affects salivation, the team induced salivation in the mice and extracted their saliva to see how hypothyroidism affects mouse saliva.
Hundt and Nietlisbach also studyied diabetic mice to see if they have more fragile red blood cells than healthy mice, meaning that the blood cell membranes become brittle and break easily. It is believed that blood cell fragility interferes with glycolysis, or the process of converting glucose to pyruvate, leading to higher levels of glucose in the blood. Hundt and Nietlisbach took blood samples from mice to test the levels of glucose in the blood and to isolate the cell membranes and test for fragility. Typically, high levels of glucose serve as a marker for the progression of diabetes; the higher the level of glucose in the body, the higher the progression of diabetes.
Meanwhile, Vaickus looked at turtles to see if they have the hormone ghrelin, which exists in human brains and stomachs and acts to stimulate hunger. To test for the hormone in turtles and other reptiles, Vaickus sectioned pieces of animal tissue and applied a stain. He then used a microscope to see if ghrelin shows up on the tissue.
The group looks forward to learning more about these animals, particularly because each project connects to human biology and medicine. Hundt explains that it is always important to look at model organisms to gain insight on certain aspects of human biology. Nietlisbach says that she wanted to learn about blood fragility because it is an interesting topic that is relevant to both humans and animals. Vaickus adds that the study of diabetes is particularly interesting because it deals with an increasingly prevalent condition.
While most the group's work was done in the lab, some field work was also involved, including a trip to a local pond to trap turtles, which the group recalled as a particularly enjoyable aspect of the project.
Hundt, a foreign language major, is an EMT at Hamilton and she is a Spanish TA. Nietlisbach, a biology major, participates in the Rainbow Alliance and in the Hamilton Outing Club (HOC), and Vaickus, a biology major, is a member of the men's lacrosse team. Hundt and Vaickus are interested in attending medical school after college, while Nietlisbach hopes to attend veterinary school.
Melanie Hundt is a graduate of John Jay High School in Cross River, N.Y.; Nicole Nietlisbach graduated from Daniel Hand High School in Madison, Conn; and Max Vaickus is a graduate of Hingham High School in Massachusetts.