Monetary Policy Class Attends Federal Reserve Seminar
---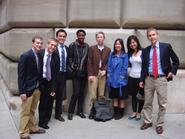 On Oct. 2, students in Professor of Economics Ann Owen's monetary policy class visited New York City to attend a seminar presented by New York Federal Reserve economists. The students attended sessions on the current economic situation, the labor market and the financial crisis. The seminar served as an orientation to a national competition, the Fed Challenge, sponsored by the Federal Reserve and the Eastern Economic Association.

Student teams prepare and deliver presentations on the current state of the economy and make recommendations regarding the future course of monetary policy. The entire Hamilton class will participate as one team, with students filling different roles to prepare and deliver the presentation. They will compete in New York City on Nov. 5.

Participants in the Fed Challenge are Anna Balber, Harry Biggs, Shunyi Chao, Fallon Chipidza, Paul Englehardt, Corey Gilbertson, Sean Kiernan, Will Kresock, Leo Xiyue, Zachary Pych, Katie Qi, Andrew Rogan, Zach Slovin, Vaclav Tomicek, Adam Vorchheimer and Jerome Wallace. Chipidza, Englehardt, Kiernan, Rogan and Vorchheimer will deliver the presentation in New York City next month.