Monetary Policy Class Competes in Fed Challenge
---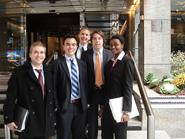 A team formed of students in the monetary policy class taught by Professor of Economics Ann Owen competed in the Federal Reserve Challenge in New York City on Nov. 5. Although the team of five students made the presentation, all class members assisted in the preparation for the event.

The Federal Reserve Challenge is a national competition sponsored by the Federal Reserve and the Eastern Economic Association. Teams of students compete by delivering 20-minute presentations that analyze current economic conditions, after which they make a recommendation for monetary policy. At the conclusion of the presentation, each team answers questions from a panel of judges that include Federal Reserve economists, finance professionals and other macroeconomic researchers.

On Oct. 2, all of Owen's students attended a seminar presented by New York Federal Reserve economists that included sessions on the current economic situation, the labor market and the financial crisis. The seminar served as an orientation for the national competition.