Murtaugh Exhibits at the Vitra Design Museum
---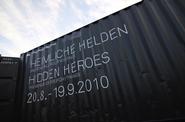 Associate Professor of Art Rebecca Murtaugh has artwork featured in the traveling exhibition "Hidden Heroes: The Genius of Everyday Things" at the Vitra Design Museum in Weil am Rhein, Germany. For this exhibition the museum seeks to illuminate four aspects of design that include innovation, production, evolution and inspiration.
The physical exhibition is presented three dimensionally in a Buckminster Fuller Dome with 41 design objects such as the sticky note, umbrella, Lego and paperclip. The virtual interactive component of the exhibition is available online at
www.hidden-heroes.net.
Jochen Eisenbrand curated the exhibition which runs until September 29.