Music Department Announces Fall 2011 Concerts
---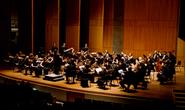 The Hamilton College Music Department has an exciting calendar of student and faculty performance scheduled for the Fall 2011 semester. All performances are general admission and take place at Wellin Hall in the Schambach Center for Music and the Performing Arts. Admission is free and all performances begin at 8 p.m., unless otherwise noted.

The Faculty Concert Series begins on Friday, Sept. 9, with the Fall Concert. Faculty artists will present a recital of solo and chamber works for voice, piano, chamber ensemble and other instruments.

The following week, "Doc" Woods presents the annual Jazz Kick-Off Concert on Tuesday, Sept. 13, in the Fillius Events Barn. This year's Kick-Off Concert offers an evening of high energy funk tunes with some of the area's best jazz musicians including Jeff Stockham, trumpet; Rick Compton, drums; Bob Cesari, saxophone; Tom Bronzetti, guitar; and Tom Witkowski, piano. Saxophonist Javon Jackson is the featured guest artist.
September concludes with a two-part recital by Linda Green, flute, and Jon Garland, horn, on Sunday, Sept. 18, at 3 p.m. Accompanied by Sar-Shalom Strong, piano, Green will play early 20th century French romantic music featuring Chant de Linos by André Jolivet for flute and piano. Also accompanied by Strong on piano, Garland will perform Eugène Bozza's En Forêt, and other works.
The Faculty Concert Series concludes with a vocal recital by Lauralyn Kolb, soprano, and G. Roberts Kolb, tenor, on Saturday, Oct. 29, at 7:30 p.m. Accompanied by Sar-Shalom Strong, piano, the Kolbs perform To a Distant Beloved: Songs of Love and Separation featuring Beethoven's An die ferne Geliebte, Jeffrey Kolb's Eurydice (texts by Nora Mathews) and chansons and arias by Liszt, Duparc, Monteverdi and others.
The Hamilton College Student Ensembles begin when McEwen's Green Café turns into a jazz club on Thursday, Oct. 20, at 6 p.m., as the College Jazz Ensemble performs during the dinner hour. "Doc" Woods directs and Ken LeGrand, saxophone, is the featured guest artist. This event is free with dinner purchase.
The Hamilton College Choir and College Hill singers take the stage on Friday, Oct. 21, at 7:30 p.m. for a program featuring American composers. Conducted by Heather Buchman, the Hamilton College Orchestra presents a fall concert on Saturday, Oct. 22, at 8 p.m., featuring works by Beethoven and Mark Mellits.
The Hamilton College Jazz Combo will present an informal concert on Tuesday, Nov. 8, at 9 p.m., in Café Opus, featuring small group and solo performance.
Also in November, the Hamilton College and Community Masterworks Chorale and Orchestra (formerly the Oratorio Society) presents Handel's Alexander's Feast (Mozart's arrangement) on Tuesday, Nov. 29. In the same year as the founding of Hamilton College (1812), amateur choral singing entered the Viennese cultural life with the founding of the Gesellschaft der Musikfreunde des Österreichischen Kaiserstaates (Society of the Friends of Music of the Austrian Imperial State). Its first concert was a performance of Handel's Alexander's Feast, with the added instrumentations of Wolfgang Amadeus Mozart, and we celebrate both Hamilton College's bicentennial and 200 years of amateur choral singing with a performance of that work. Tickets for this event are $8 for adults and $6 for students and senior citizens. Hamilton College student tickets are free.
The Student Ensembles close out the Fall semester in December starting with the Hamilton College Jazz Ensemble's Winter Concert on Friday, Dec. 2, under the direction of "Doc" Woods. The Hamilton College Chamber Ensembles presents an evening of chamber music for small groups on Saturday, Dec. 3, and the Hamilton College Hill Singers perform seasonal selections at the annual Service of Carols and Lessons in the Chapel on Sunday, Dec. 4, at 4 p.m. Heather Buchman leads the Hamilton College Orchestra in its final concert of the semester on Thursday, Dec. 8. The orchestra will perform Sibelius's Symphony No. 5 and Allison Eck '12 performs Mozart's Clarinet Concerto.
On Friday, Dec. 9, Riley Stepnick '12 presents her senior recital in music with original compositions featuring the College Hill Singers. The semester concludes with the Student Soloists Concert on Friday, Dec. 10, at 7 p.m. Hamilton College music students perform solo works for voice, piano and other instruments.
For more information about any of these events, please call the Hamilton College Performing Arts Box Office at 859-4331.