Music Department Presents Annual Brainstorm Concert
---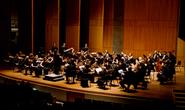 The Hamilton College Department of Music presents the Hamilton College Orchestra in the annual Brainstorm! concert, conducted by Heather Buchman on Sunday, March 10, at 3 p.m., in Wellin Hall, Schambach Center for Music and the Performing Arts.
The concert, Creative Spark: Origins of Genius, will feature comments by the conductor and performance by the Hamilton College Orchestra exploring the early works and influences of Brahms, Debussy and Stravinsky.
This event is free and open to the public. For more information, call the box office at 859-4331 or visit www.hamiltonpa.org.