Musical Associates of Central New York to Perform
---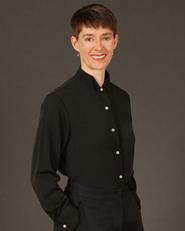 The Hamilton College Performing Arts Series will present a concert by the Symphony Syracuse (now operating under the name Musical Associates of Central New York) on Thursday, Nov. 15, at 7:30 p.m., in Wellin Hall, Schambach Center. Conducted by Associate Professor of Music Heather Buchman, the program includes Bach's Toccata and Fugue in D Minor, Mozart Violin Concerto No. 5 with soloist Jeremy Mastrangelo, and Hindemith's Mathis der Maler.
Violinist Jeremy Mastrangelo served as associate concertmaster of the Syracuse Symphony Orchestra from 2001 until the orchestra's dissolution in April 2011. During his tenure with the SSO he was a featured soloist on multiple occasions, including performances of Bach's Concerto for Two Violins with Jaime Laredo, Brahms' Double Concerto, the Sibelius violin concerto, and Vivaldi's Four Seasons. He has been a guest concertmaster with the Kalamazoo Symphony Orchestra, the Omaha Symphony, and the Oregon Symphony. Prior to his work in Syracuse, Mastrangelo was co-concertmaster of the New World Symphony in Miami.
In addition to his orchestral career, Mastrangelo performs frequently in solo recitals and chamber music concerts, and has been featured on the Syracuse Friends of Chamber Music series on numerous occasions. From 2004 until 2009, he was an affiliate artist faculty member at Syracuse University.
Musical Associates of Central New York (MACNY) is the successor organization to the Symphony Syracuse, a musician-led organization formed from members of the Syracuse Symphony Orchestra. MACNY includes a number of musicians, arts administrators, and educators who are working to form a basis for a sustainable orchestra serving all of Central New York.