N.Y. Assemblyman Ken Blankenbush Visits Hamilton, Meets with Opportunity Program Students
---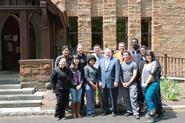 New York Assemblyman Ken Blankenbush (R-122nd District) visited Hamilton College on May 16. He responded to an invitation made during New York Student Aid Alliance Advocacy Day in February in Albany, N.Y., when a group of Hamilton students visited the state capital. Phyllis Breland '80, director of Opportunity Programs said, "He took the time to show that he cared about the experiences and opinions of our Opportunity Program students."
Blankenbush was welcomed to campus by Vice President of Communications and Development Dick Tantillo and Associate Director of Foundation, Corporate and Government Relations Amy Lindner. He joined the group in the Opportunity Program offices, was given a tour by our students, and then joined them at Commons for lunch.

Blankenbush represents Lewis County and parts of Oswego, Saint Lawrence and Jefferson counties.

New York Student Aid Alliance Advocacy Day is an opportunity for New York State students, faculty, financial aid and opportunity program administrators and other staff, as well as legislators, higher education policymakers and staff to come together to show support for student aid funding and higher education.

Last year, hundreds of high school and college students, faculty and staff from across New York State visited Albany to share their stories about the value of state student aid programs.