Nai-Ni Chen Dance Company and the Ahn Trio to Perform
---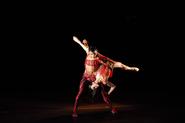 The Mohawk Valley Dance Partnership presents a performance of Temptation of the Muses by the Nai-Ni Chen Dance Company and the Ahn Trio on Saturday, Oct. 20, at 8 p.m., in Wellin Hall. This performance is a collaboration between choreographer Nai-Ni Chen and the Ahn Trio, who provide live music onstage.

Hailed as "A rare modern dance choreographer" by The New York Times, choreographer and dancer Nai-Ni Chen was a traditional dancer in the Republic of China and served on several ambassadorial culture missions to 19 countries around the world. An early member of the Cloud Gate Dance Theater in Taiwan, she graduated from the Chinese Cultural University in 1982 and came to the U.S. to seek her own voice in the world of contemporary dance.
Since the inception of her company in 1988, Chen has created a wide-ranging repertory, from dances that originated thousands of years ago to highly abstract, modern works. The inspiration for her dances often comes from the poetic motion of the Chinese painting brush, from folk rituals and ceremonies and from the phenomena of nature.
The Ahn Trio is comprised of sisters Angella (violin), Lucia (piano), and Maria (cello) Ahn. Born in Seoul, Korea, they moved to New York City in 1981 and began their training at the Juilliard School. The Ahn Trio is known for performing new classical music, genre-crossing programming, and collaborations with other artists.
The Mohawk Valley Dance Partnership is a consortium of organizations that advances an understanding of dance across a broad spectrum of the community, inspiring people to make dance a meaningful part of their lives. Established in 1995 the consortium combines the talents and resources of community partners Munson-Williams-Proctor Arts Institute and Hamilton College.
Tickets are $15 for adults, $10 for senior citizens, and $5 for students. Discounts are available for Munson-Williams-Proctor Institute members. All seating is general admission. For more information, call the box office at 859-4331 or visit www.hamiltonpa.org.