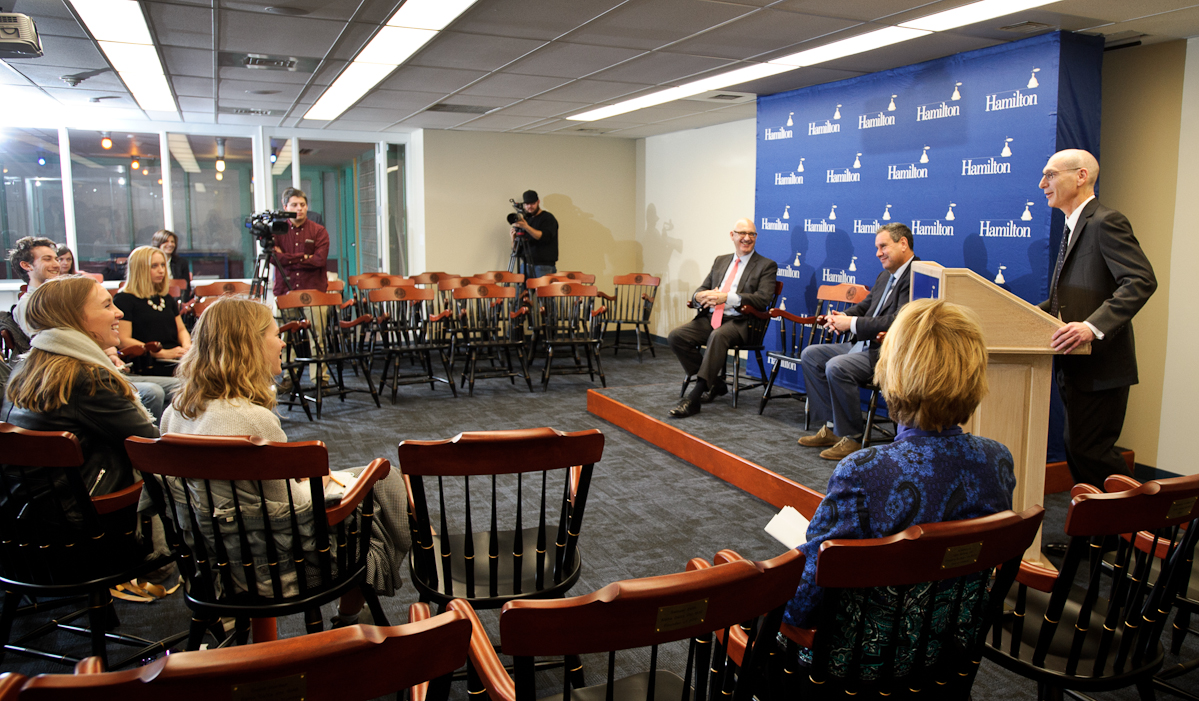 The naming of David Wippman as Hamilton's 20th president drew a great deal of interest from local media during 2015. Student volunteering efforts as well as the College's interest in keeping Alexander Hamilton on the $10 bill garnered significant local attention, and faculty members offered expertise on timely news topics throughout the year.
In February, a panel of faculty experts discussed the topic "Is Islam to blame for Isis/Terrorism" and ABC affiliate WUTR and WIBX's Keeler in the Morning Show (news/talk radio - Utica, N.Y.) covered the story. Hamilton's economic impact on the region was reported on by Utica's Observer-Dispatch (OD), and WIBX covered Hamilton students' participation in Student Aid Alliance Advocacy Day in Albany in February.
Athletic announcements drew media attention in March when Evan Haney '14 was signed by the Elmira Jackals of the East Coast Hockey League and Joe Jensen '15 was named a top D3 baseball prospect. WUTR and WFXV reported on both. Government Professor Phil Klinkner was interviewed for several articles in the OD about local and national political races.
Also in March, the Wellin Museum's Alyson Shotz : Force of Nature show received rave reviews in The Post-Standard (Syracuse, N.Y.).
In April the threat of a shooter and bomb on campus was the subject of attention in all local – and many national – media outlets. The Post-Standard, WIBX, WKTV, WRVO and the OD were among many outlets that covered it.
Later in April a ceremony commemorating the 150th anniversary of the surrender at Appomattox was reported by WKTV. Also that month a two-year Mellon Foundation grant received by the Wellin Museum received attention on WKTV and Time-Warner Cable News, in the Rome Sentinel and the OD.
In late April and early May, three students from Nepal were interviewed for extensive feature stories on WKTV and WUTR about the Nepal earthquake and relief efforts.
In May Professor Brent Plate co-authored an OD opinion piece about how it is in the nature of religious traditions to welcome strangers into their places of worship. The piece was in response to the shooting tragedy in Charleston.
Hamilton's Commencement ceremony was reported on WKTV and the OD. Local first-generati0n graduate Nicole LaBarge and her research were featured by the OD. The women's rowing team's participation in NCAA nationals and their subsequent 4th place finish was covered on WUTR, WFXV and in the OD.
President Stewart and several students were interviewed by WKTV in June for a story about keeping Alexander Hamilton on the $10 bill. It was in response to the U.S. Treasury announcement that Hamilton might be replaced. The Root Glen was included in an OD article "103 things that define the Mohawk Valley." News that Joe Jensen '15 made his debut in pro baseball was reported by WUTR in July.
As the class of '19 arrived on campus in August local media covered the annual Hamilton Serves volunteer event and Cram & Scram. Basketball standout Joseph Lin's '15 signing with a Taiwan team was reported by WUTR and WFXV.
In September, Professor of History Shoshanna Keller lent her expertise to a WKTV piece about the Syrian refugee crisis, and Ellie Ducommun '16 was interviewed by the station for a story about Student Assembly's annual Fall Fest in Clinton. Another student volunteer effort, Make a Difference Day, was also reported on by WKTV as students worked at the Children's Museum in Utica.
Hamilton Mascot "Alex" traveled to Washington, D.C. in September, and WSTM (NBC affiliate – Syracuse) and WTVH (CBS affiliate – Syracuse) reported on his protest of $10 bill changes.
In October the announcement of physicist Neil de Grasse Tyson as the next Great Names speaker was reported by the Times-Telegram (Herkimer) and OD, as well as broadcasts on WIBX and WFXV.
Several local news outlets covered the staging of the 15th annual Hogwarts at Hamilton in October, including the OD and Times -Telegram.
The terrorist attacks in November in Paris led to interviews by Assistant Dean of Off-Campus Study Carolyn North and Professor of French Martine Guyot concerning the status of students in Hamilton's Program in France.
December's news was highlighted by the announcement of David Wippman as Hamilton's 20th president. The news was carried extensively by WKTV, WUTR, Time Warner Cable News, WIBX, the Rome Daily Sentinel and the Observer-Dispatch.