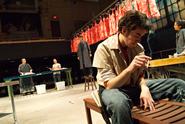 The Hamilton College Theatre Department will present Naomi Wallace's Slaughter City in eight performances in November. Directed by Hamilton Professor of Theatre Carole Bellini-Sharp, shows will be staged Thursday, Nov. 4 - Saturday, Nov. 6, and Wednesday, Nov. 10 - Saturday, Nov. 13, at 8 p.m. There will be a matinee performance on Saturday, Nov. 6, at 2 p.m. All performances are in Minor Theater. The play is open to the public, and tickets cost $5 for adults, and $3 for senior citizens and students.
Inspired by events surrounding a strike at the Fischer Meat Packing plant in Louisville, Kentucky in 1993, Wallace's Slaughter City examines the power struggles and exchanges between those who perform labor and those who profit from it. Designed to offer a metaphorical and mystical microcosm of the pernicious relations between capital and labor, Slaughter City looks at the history of injustice, negligence and resistance in American industrial relations.
The cast includes Alison McLaughlin '11, Laura Lee Smith'11, Alexandra Dorer '13, Pete Oliver '12, Rouvan Mahmud '11, Michael Breslin '13, Colin Wheeler '11, Kadahj Bennett '12, Brittany Tomkin '12, Ilse Zoerb '11, Shayna Schmidt '12, Katherine Watson '12. Juan Hurtado '11 is the stage manager.