NESCAC announces 2009 fall all-academic honorees
---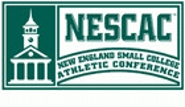 Ten Hamilton College student-athletes have been recognized by the New England Small College Athletic Conference (NESCAC) as the conference announced its 2009 fall all-academic selections on Nov. 20.
The NESCAC all-academic honorees consist of 373 fall sport student-athletes. Each honoree is a varsity letter winner with a cumulative grade point average of at least 3.35. The student-athlete must have reached junior academic standing at his or her institution to be considered for honors. Transfer students must have completed one year of study at the institution.
Five Hamilton College programs were eligible for the NESCAC all-academic awards. Men's and women's soccer and field hockey were recognized with academic honors by the Liberty League.
The NESCAC, established in 1971, is comprised of 11 highly selective colleges and universities located in the Northeast. The NESCAC sponsors 26 conference championship sports (13 for men and 13 for women) while member schools offer extensive and broad-based intercollegiate as well as club and intramural opportunities for both men and women.
Men's Cross Country: Dan Keating '11 (Holliston, Mass./Holliston HS); Kevin Kerr '10 (Montgomery, N.Y./Valley Central HS).
Women's Cross Country: Meredith FitzPatrick '11 (Greenwich, Conn./Greenwich Academy); *Kate Hails '10 (Merion, Pa./Lower Merion HS); Eva Hunt '11 (Litchfield, Conn./Litchfield HS); Chelsea Stone '10 (Niskayuna, N.Y./Niskayuna HS).
Football: Ben Freeman '10 (Minnetonka, Minn./Breck HS); Steve Mello '11 (Bedford, N.H./Groton School [Mass.]); Linus Walton '11 (Skaneateles, N.Y./Skaneateles HS).
Women's Volleyball: Liz Reid '11 (Amherst, N.Y./Amherst Central HS).
An asterisk (*) indicates the student-athlete was a 2008 fall all-academic selection.