NESCAC cross country championships preview
---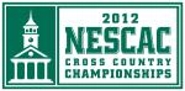 Hamilton College competes in the 2012 NESCAC Cross Country Championships at Bowdoin College in Brunswick, Maine, on Saturday, Oct. 27.

The men's 8-kilometer race will kick off the 30th annual meet at 11 a.m., followed by the women's 6-kilometer race at noon. Race results and links to course maps and meet history are available by clicking on the link below.

NESCAC Cross Country Championships Preview

Last year at Amherst College, the Hamilton men finished in ninth place and the women were 10th. The men won the NESCAC championship in 1988, while the best finish for the women is third place in 1984 and 2000.

The Continentals hosted the NESCAC championships in 2010, when All-American Peter Kosgei '11 became the first runner to win the race four times.

Hashem Zikry '13 leads the Hamilton men. Zikry finished fifth and earned first team all-conference honors at the 2012 New York State Collegiate Track Conference (NYSCTC) Championships on Oct. 20.

Sarah Ohanesian '14 has placed in the top five four times this fall. Ohanesian took fourth place at the 2012 NYSCTC Championships and made the all-conference first team last Saturday. Lainie Smith '16 has come on strong during her rookie campaign as she has placed in the top 15 three times. Smith finished 13th at the NYSCTC championships and earned second team all-conference honors.