NESCAC cross country championships this Saturday
---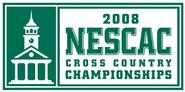 Hamilton College will compete in the 2008 New England Small College Athletic Conference cross country championships at Pineland Farms in New Gloucester, Maine, on Saturday, Nov. 1.
The men's 8-kilometer race is scheduled to begin at noon and the women's 6-kilometer race follows at 1. The NESCAC championship is one of the best conference meets in NCAA Division III. Three men's teams are ranked in the nation's Top 35 and five of the 11 NESCAC women's teams are nationally ranked.
Hamilton's Peter Kosgei '10 aims to repeat as the individual men's champion. Kosgei won by 29 seconds with a time of 25:52 at Massachusetts' Mount Greylock High School in 2007. Meredith FitzPatrick '11 was the Continentals' top women's finisher last year in 20th place.
Bates College is the host for this year's meet.