NESCAC men's golf championship qualifier preview
---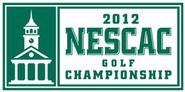 Hamilton College competes in the NESCAC Golf Championship Qualifier at Lyman Orchards Golf Club in Middlefield, Conn., on Saturday and Sunday, Oct. 1 and 2.

NESCAC Golf Championship Qualifier Preview

Saturday's round starts at 11:30 a.m. and Sunday's second and final round is scheduled to begin at 11:45. The top four finishers in the qualifier advance to the 2012 NESCAC Championship at the home course of the qualifier winner in April.

Hamilton finished in the top four at the first three championship qualifiers from 2007 to 2009. In 2010, the Continentals ended up fifth in the qualifier, and didn't play in the 2011 championship.

2011 All-American Greg Scott '14 made the NESCAC all-conference second team last year. Scott is averaging a team-best 75.1 in eight rounds this fall, and Julian Ophals '14 is next at 78.4 through eight rounds.