NESCAC men's golf championship qualifier preview
---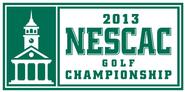 Hamilton College competes in the NESCAC Golf Championship Qualifier at Hickory Ridge Golf Club in Amherst, Mass., on Saturday and Sunday, Sept. 29 and 30.

NESCAC Golf Championship Qualifier Preview

The top four finishers in the qualifier advance to the 2013 NESCAC Championship at the home course of the qualifier winner in April. Both rounds are scheduled to begin at 10:30 a.m. Hamilton tees off at 10:30 on Saturday with host Amherst College and defending NESCAC champion Middlebury College.

The Continentals finished fourth at the qualifier in 2011 and earned a spot in the 2012 NESCAC Championship where they were fourth again. Hamilton finished in the top four at the first three championship qualifiers from 2007 to 2009.

2011 All-American Greg Scott '14 earned a spot on the NESCAC all-conference first team last year for the Continentals. Scott owns a team-best 74.0 stroke average through five rounds this fall, and Matt Yung '16 is next at 78.6 through five rounds. Hamilton also returns Carter White '14, who made the NESCAC all-conference second team last year.