NESCAC men's ice hockey championship preview
---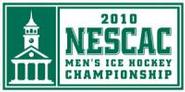 Hamilton College travels to Bowdoin College for the 2010 New England Small College Athletic Conference men's ice hockey championship at Bowdoin's Watson Arena on Saturday, March 6.
Click here for a live video stream and live statistics. Tickets for this weekend's championship are $5 for adults and $2 for students per day. Some tickets have been set aside for the Hamilton community. Please call 315-859-4751 to order tickets.
Hamilton (15-8-2 overall, 11-7-1 NESCAC) is the sixth seed and plays top seed Bowdoin (18-5-1, 14-4-1) in the first semifinal at 1 p.m. Trinity College (15-8-2, 11-6-2) is the fifth seed and takes on No. 2 seed Middlebury College (17-4-4, 12-3-4) in the second semifinal at approximately 4. The winners meet for the championship at Bowdoin at 2 p.m. on Sunday, March 7. The Polar Bears are hosting this event for the second time in 11 years.
The Continentals last reached the NESCAC semifinals in 2006, but has never played in the championship game. Hamilton is 3-0 against Bowdoin in the conference championship, and all three games were played in Brunswick, Maine. The Continentals reached this weekend with a 2-1 overtime win at Williams College on Feb. 27. Hamilton is 4-1-2 in overtime games this season. The Continentals have won four straight and are 10-2-1 in their last 13 games.
The nationally ranked No. 7 Polar Bears last hosted the NESCAC championship semifinals and finals in 2007, when they lost 4-2 to Middlebury in the title game. Bowdoin has been the runner-up in this event three times, but has never captured the championship. The Polar Bears have won their last seven games.
No. 5 Middlebury has played in the finals every year since the championship was first held in 2000, which doesn't bode well for Trinity. The teams did play to a 2-2 tie at Trinity on Jan. 15. Middlebury owns a seven-game win streak going into the weekend, while Trinity has stumbled a bit as of late. The Bantams are 3-2-0 in their last five games. Trinity has reached the semifinals in eight of the last nine years.
A capsule look at all four teams can be found below.
No. 1 seed BOWDOIN COLLEGE
Overall record: 18-5-1
Conference record (finish): 14-4-1 (1st place)
National ranking: No. 7
NCAA regional ranking: 5th in East Region
Head coach: Terry Meagher, 27th season, 439-208-43
Conference tournament appearances: 11th
Conference tournament titles: None
Conference tournament record: 9-10
Last win vs. Hamilton: 6-1 (Feb. 6 at home)
Record at home: 12-2-0
Goals scored: 106
Goals allowed: 58
Leading goal scorers: Jeff Fanning '11 (14), Daniel Weiniger '13 (11), Graham Sisson '12 (10)
Assist leaders: Kyle Shearer-Hardy '11 (19), Colin MacCormack '10 (15), Leland Fidler '10 (13)
Starting goalie: Chris Rossi '10 (2.02 gaa, .920 save pct., 13-0-1)

No. 6 seed HAMILTON COLLEGE
Overall record: 15-8-2
Conference record (finish): 11-7-1 (6th place)
NCAA regional ranking: 11th in East Region
Head coach: Norm Bazin, 2nd season, 24-23-3
Conference tournament appearances: 9th
Conference tournament titles: None
Conference tournament record: 6-8
Last win vs. Bowdoin: 2-1 (Feb. 3, 2007, at home)
Road/neutral record: 7-4-1
Goals scored: 92
Goals allowed: 87
Leading goal scorers: Chris Lorenc '10 (13), Anthony Scarpino '12 (12) Joe Buicko '11 (10)
Assist leaders: Buicko '11 (14), BJ Lalonde '12 (14) Joe Houk '13 (13)
Starting goalie: Calvin Bartel '13 (2.62 gaa, .913 save pct., 9-3-1 record)

No. 2 seed MIDDLEBURY COLLEGE
Overall record: 17-4-4
Conference record (finish): 12-3-4 (2nd place)
National ranking: No. 5
NCAA regional ranking: 3rd in East Region
Head coach: Bill Beaney, 23rd season, 455-131-34 (541-207-42 overall)
Conference tournament appearances: 11th
Conference tournament titles: Seven
Conference tournament record: 25-3
Road/neutral record: 8-3-2
Goals scored: 102
Goals allowed: 60
Leading goal scorers: Martin Drolet '12 (14), Mathieu Dubuc '13 (13), Nick Resor '12 (12)
Assist leaders: Drolet (21), Ken Suchoski '13 (15), Dubuc (14)
Starting goalie: John Yanchek '12 (2.34 gaa, .908 save pct., 11-2-2 record)

No. 5 seed TRINITY COLLEGE
Overall record: 15-8-2
Conference record (finish): 11-6-2 (5th place)
NCAA regional ranking: 7th in East Region
Head coach: David Cataruzolo, 3rd season, 47-28-4
Conference tournament appearances: 10th
Conference tournament titles: Two
Conference tournament record: 14-7
Road/neutral record: 11-5-0
Goals scored: 81
Goals allowed: 65
Leading goal scorers: Adam Houli '11 (15), Matthew Quigley '11 (7), Richard Hollstein '10 (6)
Assist leaders: Houli (10), Quigley (10), Mike DeMayo '12 (10)
Starting goalie: Wesley Vesprini '11 (2.34 gaa, .929 save pct., 15-7-2 record)