NESCAC men's ice hockey quarterfinal preview
---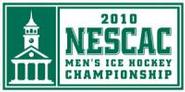 Hamilton College travels to nationally ranked No. 8 Williams College for a 2010 New England Small College Athletic Conference men's ice hockey championship quarterfinal at Williams' Lansing Chapman Rink on Saturday, Feb. 27, at 7 p.m.
Click here for a free video webcast of this contest, courtesy of Williams' department of athletics. Admission to the game is also free of charge.
Hamilton (14-8-2 overall, 11-7-1 NESCAC) is the sixth seed in the championship, but is on a roll. The Continentals have lost just twice in their last 12 games, and enter the postseason riding a three-game win streak. Hamilton is making an appearance in this event for the second straight year under second-year head coach Norm Bazin.
Williams (15-5-3, 13-5-1) is the third seed and -- like the Continentals -- has suffered two setbacks in its last 12 games. The Ephs have appeared in all 10 previous NESCAC tournaments, but have won just three games. Williams' best showing was a runner-up finish in the 2000 championship.
These two programs have met in the NESCAC championship once, but it was memorable. Hamilton won 9-5 at Williams in the 2006 quarterfinals, and the 14 goals are a NESCAC championship record for both teams in one game.
A capsule look at Hamilton and Williams can be found below.
No. 3 seed WILLIAMS COLLEGE
Overall record: 15-5-3
Conference record (finish): 13-5-1 (3rd place)
National ranking: No. 8
NCAA regional ranking: 7th in East Region
Head coach: Bill Kangas, 21st season, 275-198-44
Conference tournament appearances: 11th
Conference tournament titles: None
Conference tournament record: 3-10
Last win vs. Hamilton: 3-2 in OT (Jan. 9 at Williams)
Record at home: 7-2-3
Goals scored: 75
Goals allowed: 48
Leading goal scorers: Alex Smigelski '10 (17), Connor Olvany '11 (10)
Assist leaders: Olvany (13), Smigelski (11), Matt Masucci '11 (11)
Starting goalie: Ryan Purdy '12 (2.05 gaa, .937 save pct., 11-5-3 record)

No. 6 seed HAMILTON COLLEGE
Overall record: 14-8-2
Conference record (finish): 11-7-1 (6th place)
NCAA regional ranking: 13th in East Region
Head coach: Norm Bazin, 2nd season, 23-23-3
Conference tournament appearances: Ninth
Conference tournament titles: None
Conference tournament record: 5-8
Last win vs. Williams: 3-2 in OT (Feb. 20, 2009 at Hamilton)
Road/neutral record: 6-4-1
Goals scored: 90
Goals allowed: 86
Leading goal scorers: Chris Lorenc '10 (13), Anthony Scarpino '12 (12)
Assist leaders: Joe Buicko '11 (13), Joe Houk '13 (13), BJ Lalonde '12 (13)
Starting goalie: Calvin Bartel '13 (2.77 gaa, .910 save pct., 8-3-1 record)