NESCAC women's ice hockey quarterfinal preview
---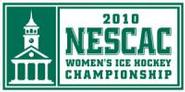 Hamilton College travels to nationally ranked No. 10 Middlebury College for a 2010 New England Small College Athletic Conference women's ice hockey championship quarterfinal at Middlebury's Kenyon Arena on Saturday, Feb. 27, at 1 p.m.
Click here for a free video webcast of this contest. Admission to the game is $7 for adults and $3 for students, as Middlebury is also hosting a men's game that afternoon, and the tickets are good for both events. Tickets can be purchased at: http://boxoffice.middlebury.edu/index.php. You may also call 802-443-6433 or stop by the McCullough box office.
Hamilton (11-10-3 overall, 5-8-3 NESCAC) is the sixth seed in the championship, and the Continentals are enjoying their first winning season since 2002-03. Hamilton is 5-3-0 in February and has allowed just 19 goals during that stretch. The Continentals have played in the championship every year since it started in 2002, but hasn't reached the final. Hamilton's most recent trip to the semifinals was in 2007.
Middlebury (15-6-3, 11-4-1) is the third seed and the defending tournament champions. In fact, the Panthers have won this event four times and been runners-up twice. Middlebury has struggled a bit this month as its record is 3-2-2 in February.
These two programs have met in the NESCAC championship once, which resulted in a 7-2 win for the Panthers at home in a 2007 semifinal. The Continentals had never defeated Middlebury in 25 meetings dating back to Hamilton's first varsity season in 1996-97. But the last time the teams met on Feb. 6, the Continentals broke through with a 3-2 victory at home.
A capsule look at Hamilton and Middlebury can be found below.
No. 3 seed MIDDLEBURY COLLEGE
Overall record: 15-6-3
Conference record (finish): 11-4-1 (3rd place)
National ranking: 10th
NCAA regional ranking: 6th in East Region
Head coach: Bill Mandigo, 22nd season, 406-104-23
Conference tournament appearances: 9th
Conference tournament titles: Four (2009, 2006, 2005, 2003)
Conference tournament record: 14-4
Last win vs. Hamilton: 6-0 (Nov. 21 at Middlebury)
Record at home: 9-4-1
Goals scored: 91
Goals allowed: 36
Leading goal scorers: Anna McNally '11 (14), Ashley Bairos '10 (12)
Assist leaders: Nora Bergman '11 (21), McNally (20)
Starting goalies: Alexi Bloom '11 (1.81 gaa, .909 save pct., 7-3-2 record), Lani Wright '10 (1.15 gaa, .935 save pct., 7-3-1 record)

No. 6 seed HAMILTON COLLEGE
Overall record: 11-10-3
Conference record (finish): 5-8-3 (6th place)
Head coach: Brendon Knight, 4th season, 36-53-11
Conference tournament appearances: 9th
Conference tournament titles: None
Conference tournament record: 3-8
Last win vs. Middlebury: 3-2 (Feb. 6 at Hamilton)
Road/neutral record: 6-7-1
Goals scored: 62
Goals allowed: 64
Leading goal scorers: Stephanie Miguel '11 (10), Amy Allen '10 (10)
Assist leaders: Miguel (18), Christie Sharlow '11 (16)
Starting goalie: Becca Hazlett '13 (2.05 gaa, .938 save pct., 9-8-2 record)