New Faculty Appointed for 2012-13
---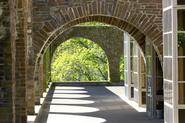 Patrick Reynolds, vice president for academic affairs and dean of faculty, announced the appointment of new faculty for the 2012-13 academic year, including two tenure-track appointments, 25 visiting professors and instructors, and four teaching fellows. New tenure-track appointments are Daniel Barth and Gbemende Johnson.
Daniel Barth joins Hamilton College as an assistant professor of economics. He earned his bachelor's degree in business-economics from Lewis and Clark College in 2004, and both his master's degree (2009) and Ph.D. (2012) in economics from the Johns Hopkins University. Barth's research focuses on household financial and career decisions, specifically the stock allocation in household investment portfolios and the effect of income volatility on career choice. He will teach courses in financial economics and microeconomics.

Gbemende Johnson joins Hamilton as an assistant professor of government. She received her master's degree and Ph.D. in political science from Vanderbilt University. Her research interests are American institutions, judicial politics, and executive branch politics. Johnson's work has appeared in the American Journal of Political Science and she recently received a grant from Rutgers' University Center on the American Governor to examine state supreme court deference to executive power. She is currently working a project that explores the non-delegation doctrine in the states and a project that examines state implementation of portions of the Americans with Disabilities Act (ADA). Johnson will teach courses on constitutional law, civil liberties and the presidency.

Visiting faculty members for 2012-13 include: George Baker '74, government; Lolita Buckner-Inniss, women's studies; Yi-Hui Chen, East Asian languages; Lawrence Chua, art history; Beverly Edmondson, psychology; Anne Feltovich, classics; Christiane Gannon, English and creative writing; John Hershberger, chemistry; Jessica Holland, art; Kirstin Howard, dance and movement studies; Marisa Hughes, mathematics; Richard Huizar, government; Karl Inderfurth, government; Saritha Nellutla, chemistry; Yalan Ning, chemistry; Omobolaji Olarinmoye, government; David Pereplyotchik, philosophy; John Ragosta, history; Peter Sandusky, chemistry; Rebecca Tally, history; Ayako Tanemura, East Asian languages; Calin Trenkov-Wermuth '00, government; Frank Vlossak '89, government; Benjamin Widiss, English and creative writing; Miyabi Yamamoto, East Asian languages.

Returning lecturers are Victoria Allen, education studies; Nesecan Balkan, economics; Wyatt Galusky, environmental studies; Esther Kanipe, education studies; Robin Kinnel, chemistry; Richard Lloyd, dance & movement studies; Jeremy Medina, Hispanic studies; Margaret Morgan-Davie, economics; Jean Morris, psychology; Shawna O'Neil, chemistry; John O'Neill, English and creative writing; Stephen Owen, economics; Greg Rahn, chemistry; Sandra Stanton, dance & movement studies; David Walden, psychology; Kim Wieczorek, education studies; and Jay Williams, religious studies.

Four new teaching fellows have joined the language departments: Fidaa Abuassi, critical languages; Camille Hanuise, French; Alejandre Olarte, Hispanic studies; and Lanzhao Zhou, Chinese.