New Faculty Appointed for 2013-14
---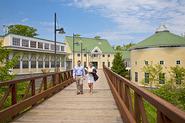 Patrick Reynolds, vice president for academic affairs and dean of faculty, announced the appointment of new faculty for the 2013-14 academic year, including five tenure-track appointments, 21 visiting professors and instructors, and six teaching fellows. New tenure-track appointments are Courtney Gibbons, Alexandra List, Max Majireck, Seth Schermerhorn and Xavier Tubau.
Courtney Gibbons joins Hamilton as an assistant professor of mathematics. A Connecticut native, she graduated summa cum laude with a bachelor's degree in mathematics from Colorado College (2006). Gibbons received her master's degree and Ph.D. from the University of Nebraska-Lincoln (2009, 2013), where she studied homological properties of modules over quadratic algebras. Her work appears in the Journal of Pure and Applied Algebra, and, forthcoming in the Journal of Commutative Algebra. She also codes for Macaulay 2, an open-source algebra software package. She plans to design algebra electives that blend classical theory and modern applications.
Alexandra List is appointed as an assistant professor in the Psychology Department and Neuroscience Program. She earned both her bachelor's degree in cognitive science and Ph.D. in psychology at the University of California, Berkeley, and conducted post-doctoral research at Bangor University (in Wales) and Northwestern University. Her research has focused on understanding how we perceive and attend to visual, auditory and haptic information in our environment, for which she has employed a variety of human cognitive neuroscience techniques.
Max Majireck joins the faculty as an assistant professor of chemistry. He completed postdoctoral research in chemical biology at Harvard University and the Broad Institute of MIT & Harvard designing small molecules to study disease biology, particularly cancer. During this research, Majireck spent the majority of his efforts developing molecular tools to target PRC2, an essential chromatin modifying protein complex that is frequently misregulated or mutated in various cancers, and was selected for a fellowship from the Leukemia & Lymphoma Society. At Penn State, Majireck earned his Ph.D. in organic chemistry while focusing on the total synthesis of complex natural products and development of new methodologies for organic synthesis. He also holds a bachelor's degree in biochemistry from Grove City College. At Hamilton, he will design a new course to highlight the role of organic synthesis in human health and a research program investigating new chemical transformations to produce tool compounds for studying neurological disorders.
Seth Schermerhorn joins Hamilton as a lecturer in the Religious Studies Department. He received a bachelor's degree in anthropology and history from Colorado State University and his master's degree in religious studies from the University of Colorado. Schermerhorn is currently finishing his doctorate in religious studies from the School of Historical, Philosophical, and Religious Studies at Arizona State University. He has worked extensively with several indigenous nations in the southwestern United States, primarily with the Tohono O'odham Nation, a federally recognized Tribe located in southern Arizona. His dissertation, titled Walking to Magdalena: Personhood and Place in Tohono O'odham Narratives, Songs, and Material Culture, focuses on pilgrimages made by many O'odham to Magdalena, Sonora, Mexico, and how some O'odham have made Christianity their own. Schermerhorn will teach courses on Native American religious traditions and pilgrimage.
Xavier Tubau comes to Hamilton as an assistant professor in the Hispanic Studies Department. He received his Ph.D. in Spanish Literature from the Universitat Autònoma de Barcelona in 2008, and was a Postdoctoral Fellow at the Universitat Pompeu Fabra in Barcelona before coming to Hamilton in 2013. He specializes in Renaissance intellectual history and Golden Age Spanish Literature. Currently, he is writing a book about political propaganda during the empire of Charles V. He has published two books: Una polémica literaria: Lope de Vega y Diego de Colmenares (2007), and Erasmo mediator: Política y religión en los primeros años de la Reforma (2012) and has authored many articles.
Visiting faculty members for 2013-14 include: Jeremy Bendik-Keymer, philosophy; Frank Bergmann, German & Russian studies; Don Bunk, physics; Johnnie Carson, government; Christina Ceisel, communication; Pamela Diaz, French; Jules Gibbs, English and creative writing; Azriel Grysman, psychology; Ishan Joshi, government; Theresa Lopez, philosophy; Heather Mallory, biology; Khori Newlander, anthropology; Hoa Ngo, English and creative writing; Paul Norberg, Hispanic studies; Andrew Nutting, economics; Yumi Pak, Africana studies; John Person, history; Kara Sage, psychology; Heather Sullivan, government; Courtney Thompson, Africana studies; and Joel Winkelman, government.
Returning lecturers are Victoria Allen, education studies; Esther Kanipe, education studies; Larry Knop, mathematics; Richard Lloyd, dance & movement studies; Jeremy Medina, Hispanic studies; Margaret Morgan-Davie, economics; Jean Morris, psychology; John O'Neill, English and creative writing; Stephen Owen, economics; Greg Rahn, chemistry; Sandra Stanton, dance & movement studies; David Walden, psychology; Kim Wieczorek, education studies; and Jay Williams, religious studies.
Six new teaching fellows have joined the language departments: Yan Li, Chinese; Leanne Li, Chinese; Shuang Wu, Chinese; Yang Wu, Chinese; Morgan Lasalle, French and Maria Gabriela Portal, Hispanic studies.