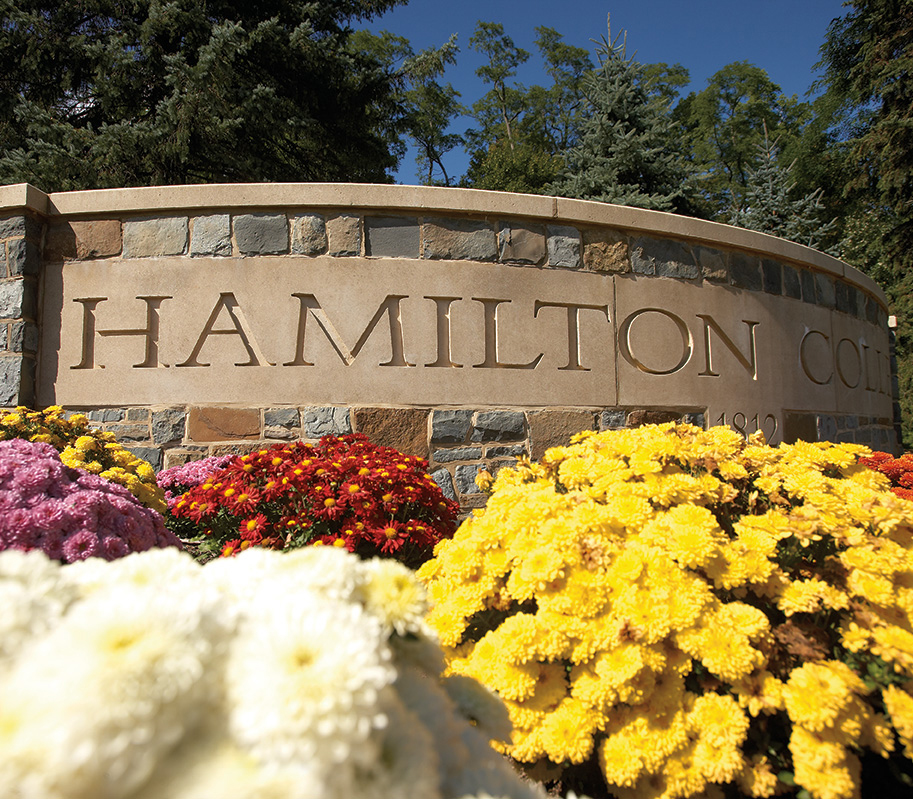 Patrick Reynolds, vice president for academic affairs and dean of faculty, announced the appointment of new faculty for the 2014-15 academic year, including six tenure-track appointments, 24 visiting professors and instructors, and three teaching fellows.
New tenure-track appointments are José Causadias, psychology; Erica De Bruin, government; Katherine Jones-Smith, physics; Alexandra Plakias, philosophy; Ravi Thiruchselvam, psychology; and Andrea Townsend, biology.
José Causadias joins Hamilton as an assistant professor of psychology. He received his bachelor's degree from Universidad Santa María La Antigua in Panama, a master's degree from Universidad Complutense de Madrid in Spain, and a master's and Ph.D. from the University of Minnesota, Twin Cities.
Causadias' research and teaching focuses on the interplay of cultural and biological processes in the developmental of psychopathology and health. Working with immigrant youth, he studies how enculturation and acculturation interrelates with genetic variations to favor trajectories of risk and resilience.
Erica De Bruin, assistant professor of government received a Ph.D. from the Department of Political Science at Yale University in 2014. De Bruin's research interests include civil-military relations, military effectiveness, international conflict and civil war. Her current research focuses on how to prevent military coups and how violent conflict escalates. De Bruin worked previously as a research associate in U.S. foreign policy and international law at the Council on Foreign Relations in Washington, D.C., and taught international relations to high school students through the United Nations Association's Global Classrooms Program. She holds a bachelor's degree in political science from Columbia University.
Kate Jones-Smith comes to Hamilton as an assistant professor of physics. She is a theoretical physicist who studies cosmology, fundamental physics, and interdisciplinary science. Her first publication appeared in Nature and debunked a mathematical technique which had previously been used to identify authentic drip paintings by Jackson Pollock. Since then Jones-Smith has published on diverse topics such as gravitational radiation arising from cosmological phase transitions, mathematical analogies between ordinary conducting materials and certain models of dark energy, and non-Hermitian theories of quantum mechanics which describe new fundamental particles and quasi-particles.
Alexandra Plakias is a 2002 Hamilton graduate and now joins the faculty as assistant professor of philosophy. Originally from New York City, she moved to Santa Cruz, Calif., where she received a master's degree from the University of California.
She then completed her Ph.D. at the University of Michigan, and spent two years as a postdoctoral researcher at the University of Aberdeen, in Scotland. Plakias' research focuses on issues in moral psychology, such as the role of evolution and culture in our moral values; she has also written on moral relativism, and on the role of empirical research in philosophical theorizing.
Ravi Thiruchselvam joins Hamilton College as an assistant professor of psychology. He grew up in Toronto, and completed his Ph.D. in psychology at Stanford University. Thiruchselvam's research aims to understand affective phenomena -- more specifically, the control of emotion and its relationship to psychopathology -- by utilizing tools in cognitive neuroscience. At Stanford, he was awarded the Psychology Department's Hastorf Prize for Excellence in Teaching. His research has been published in various journals, including Psychological Science, Biological Psychology and the International Journal of Psychophysiology.
Assistant Professor of Biology Andrea Townsend earned her A.B. in biology from Bowdoin College and Ph.D. in ecology at Cornell University, and she conducted post-doctoral research at the Cornell Lab of Ornithology and the Smithsonian Institution. She was previously an assistant professor at the University of California, Davis.
Townsend's research is focused on understanding how land-use changes affect the behavior, health and populations of wild birds. In her recent work, she has examined how urbanization promotes transmission of West Nile virus and food-borne pathogens in crows, using satellite telemetry to examine how they might transport these zoonotic diseases along their migratory pathways. Townsend looks forward to working with her Hamilton students to track wild animals and understand how they are responding to our changing world.
Visiting faculty members for 2014-15 include: Carolyn Dash, geosciences; David DeBevoise, German and Russian; Benjamin DiCicco-Bloom, sociology; Douglas Edwards, philosophy; Christine Fernandez, Hispanic studies; Daniel Griffith, chemistry; James Hesla, theatre; Ya-Ching Hsu, East Asian languages and literature; Jarrod Hunt, economics; Karl Inderfurth, government (spring); Cara Jones, women's studies; Yayoi Kato, government; Jaime Kucinskas, sociology; Celeste Moore, history; Andrea Murray, anthropology; Yumiko Naito, East Asian languages and literature; Andrew Rippeon, English & creative writing; Sam Rosenfeld, government; Onur Sapei, economics; Jesse Weiner, classics; Joseph West, chemistry; Josh Wiscons, mathematics; Yunjing Xu, East Asian languages and literature; and Arian Farshbaf Yazdandoust, economics.
New lecturers are Richard Hunt, education studies; Jason Townsend, biology; Topaz Wiscons mathematics; Meredith Moss, anthropology; Peter Simons, history; and Valeria Stepanova, chemistry.
Returning lecturers are Victoria Allen, education studies; Frank Bergmann, German and Russian; Robin Kinnel, chemistry; Larry Knop, mathematics; Richard Lloyd, dance & movement studies; Rita Lombardi, art; Jeremy Medina, Hispanic studies; Margaret Morgan-Davie, economics; Jean Morris, psychology; John O'Neill, English and creative writing; Stephen Owen, economics; Greg Rahn, chemistry; David Rivera, government; Sandra Stanton, dance & movement studies; David Walden, psychology; Kim Wieczorek, education studies; Ernest Williams, biology; and Jay Williams, religious studies.
Three new teaching fellows have joined the language departments: Xi Chen and Lu Wang, East Asian Languages and literature; and Sarah Malard, French.