New York Six Consortium Receives Teagle Foundation Grant
---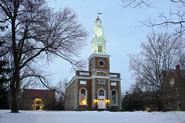 The New York Six Liberal Arts Consortium, of which Hamilton is a member, has received a $15,000 planning grant from The Teagle Foundation for a project titled "Faculty Work and Student Learning in the 21st Century," aimed at exploring the changing nature of faculty work at leading liberal arts colleges.
The New York Six is a cooperative venture of six upstate New York liberal arts institutions: Colgate University, Hamilton College, Hobart and William Smith Colleges, St. Lawrence University, Skidmore College, and Union College.

The ultimate goal of the New York Six project is to create a more sustainable paradigm for faculty work in the modern student learning environment, one which encourages faculty creativity through appropriate definitions and measurements of faculty work, and recognition structures that acknowledge the complexity of today's academy.
Marianne Janack, the Sidney Wertimer Professor of Philosophy, is Hamilton's faculty representative on the project leadership team. She noted, "Much of faculty work does not fit neatly into the usual list of duties of teaching, research and service. Student advising (both informal and formal), writing letters of recommendation for graduate schools, job applications, and internships, and developing new ways to use new or innovative technologies are just some examples of duties that are only partially captured by the standard rubrics of faculty evaluation," Jamack said. "This grant should help us look more carefully at the kinds of work faculty do," she explained.
"The Teagle Foundation has been an important partner of our member institutions as they have addressed teaching and learning in recent years," said Amy Doonan Cronin, special assistant to the presidents of the New York Six Consortium. "We are very pleased to collaborate in the Foundation's latest effort to enhance the effectiveness of American higher education."
The New York Six Consortium facilitates collaboration among its member institutions in fulfilling their educational missions and serving the public good. Through the sharing of expertise and resources, the Consortium enhances opportunities for students, faculty, and staff, while reducing colleges' individual and collective operating and capital costs.