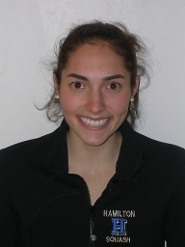 Rachel Newman '16 represented the Hamilton College women's squash team at the 2015 College Squash Association Individual Championships held at Princeton University on Friday and Saturday.

Results

Newman split her four matches at the championships and finished the season with a 17-5 record. The 17 wins tied Isabelle Weisman '15 for the team lead this season. Newman received NESCAC All-Conference honors the day before the tournament started.

Newman was seeded 73rd out of 80 players and competed in the Holleran Division. She put forth a fantastic effort in the first round against 57th-ranked Lindsay Seginson of Cornell University on Friday morning but ultimately lost in four games (6-11, 14-12, 11-8, 12-10).

Newman advanced to the semifinals of the first round consolation bracket. She upset No. 62 Celia Dyer of the University of Virginia in four games (6-11, 11-8, 11-9, 11-6) on Friday afternoon. Newman then breezed to a three-game victory on Saturday morning against 80th-ranked Stuart LeMay of Dickinson College, 11-3, 11-2, 11-6.

Newman's season ended with an 11-7, 13-11, 11-4 setback against Yale University's Maddie Tomlinson on Saturday afternoon. Tomlinson had initially been placed on the wait list and did not receive a ranking.