Nicholas Yepes '15 Awarded Kathryn Davis Fellowship
---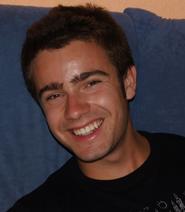 Nicholas Yepes '15 has been awarded a Kathryn Davis Fellowship for Peace from Middlebury College. The merit-based scholarship provides full room, board and tuition to attend one of Middlebury College's Language Schools. These 100 fellowships are made possible by a generous gift from the late Kathryn Davis, to address today's critical need for increased language proficiency in the United States.

Yepes, an economics major at Hamilton, will attend the Portuguese Language School at Middlebury. He said there were several reasons he applied to the program. "I'm interested in a career in economic development in Latin America after graduation and Portuguese will be a great tool to have under my belt," Yepes explained. "In addition, this program had a 'Portuguese for Spanish speakers section,' which really appealed to me because I already speak Spanish and they have classes that target the common errors that Spanish speakers make."
Yepes added that knowledge of Portuguese will be valuable for his internship with the Latin American Investment Banking Group at Citi that he'll be undertaking this fall through the Hamilton in NYC Program.
A teaching assistant for the Hispanic Studies Department, Yepes was awarded a Levitt Fellowship to go to Paraguay and carry out a project in economic development in 2012.
The Davis Fellowships are merit-based and intended for exceptionally qualified individuals with demonstrated interest in one or more of the following areas: international, global, or area studies; international politics and economics; peace and security studies; and/or conflict resolution.