Nine Students Awarded Smallen Creativity Grants
---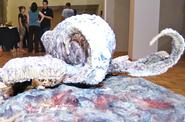 Nine Hamilton students have received grants from the Steven Daniel Smallen Memorial Fund.
The Fund aims to encourage creativity among Hamilton students by providing funds for projects displaying originality, expressiveness and imagination. David and Ann Smallen established the fund in 1993 in memory of their son, Steven. Smallen studied at Hamilton for a year while receiving treatment for leukemia, before losing his battle with cancer in 1992.
Michael Bickal '12 and Samuel Briggs '12 received a grant to create a feature length film about Bickal's experience working at an architecture firm and will follow the lives of the firm's employees. The film will deal with issues of homosexuality and identity.

Lisa Buch's '11 project is titled "Serendipity in Anthropology and Animalia" which will involve the creation of a series of large scale paintings and drawings exploring serendipitous parallels she observed between the natural world and our anthropological world. The project will examine how behaviors in the natural world mirror our human behaviors.

Through their project, "Artistic Communities: the Underground Café and the creation of Amorphous Art," Caroline Davis '11 and Julia Wilber '11 intend to learn the art of glass-blowing through courses at the Corning Museum of Glass. They will then create unique water glasses to be sold in support of the Underground Cafe.
Annie Hudson '12 will travel to Prague to undertake "An Exploration of Czech Identity as Expressed Through Music" with the ultimate goal of understanding the historical and current significance of this form of nationalistic expression.
Suman Sarker '11 will travel to Bangladesh and New York City to photograph working class people. He will compare and contrast the working classes by showing the types of places Third World country immigrants come from in relation to the type of "American Dream" these immigrants find themselves in.

Jared Schneider '11 received a grant to support the recording and production of a CD of his own music.
Alicia Specht '11 will explore relationships between man and nature through the contrast between organic and man-made forms by creating sculptures. She will take nautical creatures and other organic forms and abstract them, while maintaining their organic quality.