Nine Faculty Members Awarded Tenure
---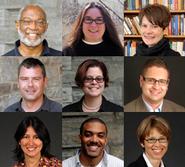 Nine Hamilton College faculty members were approved for tenure by the College's Board of Trustees during a recent meeting. The Board granted tenure to Donald Carter (Africana studies), Anne Lacsamana (women's studies), Tina Hall (English), Chaise LaDousa (anthropology), Rebecca Murtaugh (art), Angel David Nieves (Africana studies), Edna Rodriguez-Plate (Hispanic studies), Chad Williams (history) and Yvonne Zylan (sociology).
The granting of tenure is based on recommendations of the vice president for academic affairs and dean of faculty, and the committee on appointments, with the president of the college presenting final recommendations to the board of trustees. The tenures are effective July 1. With the granting of tenure comes the title of associate professor.
Donald Martin Carter
came to Hamilton from the Department of Anthropology at Johns Hopkins University. He previously taught at Dickinson College and Stanford University. Carter received a Ph.D. from the University of Chicago and is author of
States of Grace: Senegalese in Italy and the New European Immigration,
published in 1997. His research interests include culture theory, racial formation, visual culture, Diaspora, invisibility and transnational cultural politics.
Anne E. Lacsamana
joined the Hamilton faculty in 2005. She received her Ph.D. in American culture studies from Bowling Green State University. Specializing in global feminist theory, Lacsamana's research focuses on U.S.-Philippine relations, with particular attention to the Philippine women's movement. For the 2008-2009 academic year, Lacsamana was awarded an American Association of University Women (AAUW) Postdoctoral Research Fellowship to complete work on her manuscript "Revolutionizing Feminism: The Philippine Women's Movement in the Age of Terror." She is the co-editor of
Women and Globalization
(Humanity Press 2004) and has published articles and book reviews in journals such as
Nature, Society and Thought, Socialist Review, Critical Asian Studies
and
Amerasia.
Tina Hall
earned an M.F.A. in fiction from Bowling Green State University and a Ph.D. from the University of Missouri. Her novella,
All the Day's Sad Stories,
was published by Caketrain Press in the spring of 2009. In February Hall was named the 2010 winner of the Drue Heinz Literature Prize, one of the nation' s most prestigious awards for a book of short stories. Hall's manuscript,
The Physics of Imaginary Objects,
was selected from a field of nearly 350 entries by esteemed author and film critic Renata Adler. The book will be published by the University of Pittsburgh Press this fall.
Hall's fiction has appeared in
3rd bed, Quarterly West, Black Warrior Review, descant, Water-Stone Review
, and other literary journals. She has been nominated three times for the Pushcart Prize. Hall's teaching interests include monsters, the gothic, technology's relationship with the body, contemporary fiction, and experimental women writers.
Chaise LaDousa
attended the college of the University of Chicago and received his Ph.D. from Syracuse University. He has spent two years in North India studying languages and the role they play in education and India's rapidly changing political economy. Before coming to Hamilton LaDousa taught at Southern Connecticut State University. He has published professional articles in
American Ethnologist, Journal of Pragmatics and Language in Society
and
Anthropological Quarterly.
Rebecca Murtaugh
earned a Master of Fine Arts degree from Virginia Commonwealth University and a bachelor's degree from the Pennsylvania State University. Her work has been exhibited nationally in solo and group exhibitions in New York City, Philadelphia and Washington, D.C., among other major cities. Murtaugh's work has been published in
The New York Times, Seattle Post Intelligencer, Artweek
and
Stone Canoe
, among others. She is represented by the Estel Gallery in Nashville and has work on view at the Frist Center for Visual Arts through August 2010. Her upcoming solo exhibition titled "Temptations" will open in June at the Urban Institute of Contemporary Arts in Grand Rapids, Mich. Murtaugh's areas of specialization are sculpture, ceramics and installation art.
Angel David Nieves
taught in the School of Architecture, Planning, and Preservation at the University of Maryland, College Park, before joining the Hamilton faculty. He completed his doctoral work in architectural history and Africana Studies at Cornell University. His book,
'We Shall Independent Be:' African American Place-Making and the Struggle to Claim Space in the U.S.
(University Press of Colorado, June 2008), examines African American efforts to claim space in American society despite fierce resistance. Nieves has published essays in the
International Journal of Media and Cultural Politics, Safundi: The Journal of South African and American Studies,
and in several edited collections. His digital research and scholarship have also been featured on MSNBC.com and in
Newsweek
. Nieves' scholarly work and community-based activism critically engages with issues of memory, heritage preservation, gender and nationalism at the intersections of race and the built environment in cities across the Global South.
Edna M. Rodríguez-Plate
completed her bachelor's degree at the University of Puerto Rico, did master's work at Purdue University and her Ph.D. at Emory University. Her research and teaching begins with basic questions about identity, from individual identities to a collective social-national identity: How are identities constructed, represented and contested culturally, in films, literature and the mass media? How is ideology produced and how does it affect our sense of the world, our world?
Rodríguez-Plate specializes in Spanish and Latin American Cinema, contemporary Latin American literature and culture, and Cuban studies. She is the author of
Lydia Cabrera and the Construction of an Afro-Cuban Cultural Identity,
and has written several articles on Cuban film and literature.
Chad Williams
earned his master's degree and Ph.D. in history from Princeton University. Williams' teaching and research interests include modern U.S. and African-American history, World War I, African-American intellectual history and the African Diaspora. His book,
Torchbearers of Democracy: African-American Soldiers and the Era of the First World War,
based on his dissertation, will be published by the University of North Carolina Press. Williams has received fellowships from the Schomburg Center for Research in Black Culture and the Ford Foundation to assist in the completion of his manuscript. He has published contributions in
The Encyclopedia of War and American Society, The Encyclopedia of African American Culture
and
History: The Black Experience in the Americas and The Black Experience in the Western Hemisphere,
as well as book reviews in
The Journal of Southern History
and
The North Carolina Historical Review.
Yvonne Zylan
earned a bachelor's degree in East Asian Studies from Yale University, a Ph.D. in sociology from New York University and a juris doctor from the University of San Diego School of Law. She has published articles in the
Michigan Journal of Gender & Law, Michigan Journal of Law Reform, Gender & Society, Social Forces, American Journal of Sociology, American Sociological Review,
and
Signs: Journal of Women in Culture and Society
. She is currently working on a book-length study of sexuality, social theory, and the law, titled
States of Passion: Law, Identity, and the Social Construction of Desire
, which will be published by Oxford University Press. Her areas of scholarship include law and society, sexuality, social theory, political sociology, and the state and social policy. Prior to joining the Hamilton faculty, she practiced law for three years in the litigation department at Pillsbury Winthrop Shaw Pittman LLP.