No. 10 women's lacrosse edged at Buffalo State
---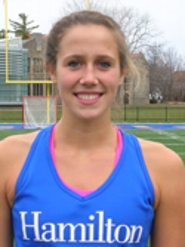 Ashley Caporizzo and Mariah DeBolt scored four goals apiece to lead Buffalo State College to a 13-12 upset against nationally ranked No. 10 Hamilton College in a non-conference game at Buffalo State's Coyer Field on March 15.

The Bengals (4-0 overall) remained undefeated with the one-goal victory. Thursday's meeting was the first in the history of the two programs. All three Hamilton games have been decided by one goal.

Kendyl Clarkson chipped in two goals and five assists, Karen Shaddock added two goals and two helpers and Becca Martinez posted one goal and one assist for the winners. Shaddock helped lead the defense with two caused turnovers. Colleen George stopped 13 shots.

Rachel Friedman '13 paced the Continentals (1-2) with five goals. Friedman leads the team with 10 goals and 13 points. Katie D'Antonio '14 tallied three goals and Libby Schultz '12 had one goal and two assists. Ellen Esterhay '14, Kathryn Maiorano '14 and Mariah Monks '13 scored one goal each.

Lauren Sokol '12 won a game-high seven draw controls and scooped up three ground balls. D'Antonio was also credited with three ground balls. Dewi Caswell '14 made three saves. 2011 All-American defender Meg Pengue '12 missed her second straight game due to injury.

Hamilton quickly seized a 3-0 lead on two goals by Friedman and one by Maiorano. Buffalo State responded with four in a row for a 4-3 lead with 19:57 left in the first half.

D'Antonio tied the score on an unassisted goal with 17:52 remaining, but DeBolt put the Bengals ahead for good with her first goal on a pass from Jenn Shaddock with 15:44 left in the half. Buffalo State's lead fluctuated between one and three goals the rest of the afternoon. DeBolt's free-position goal with 7 seconds left in the half gave the Bengals a 9-6 advantage at the break.

The Continentals trailed 13-10 midway through the second half, but Friedman scored with 3:55 remaining, and again with 1:29 left to pull Hamilton within one goal. Buffalo State won the ensuing draw control, but committed a turnover with just under a minute to play. Sokol picked up the ground ball and the Continentals had one last chance. However, Hamilton sealed its fate by giving the ball away with 28 seconds remaining.

The Continentals finished with an advantage in shots (36-19), ground balls (13-9) and draw controls (17-10). The Bengals were credited with 17 turnovers to just nine for Hamilton.

The Continentals travel to St. John Fisher College for another non-conference game on Saturday, March 17.