No. 11 women's lacrosse edged in overtime
---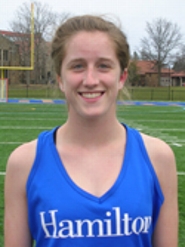 Bowdoin College's Lindsay Picard '16 scored with 5:15 left in overtime and lifted the nationally ranked No. 9 Polar Bears to a 10-9 NESCAC win against No. 11 Hamilton College at Hamilton's Steuben Field on March 22.

Playing conditions were far from ideal for this clash between nationally ranked teams. The wind chill dipped into the teens and intermittent snow showers made it difficult to see at times.

Picard finished with two goals and four draw controls for Bowdoin. Carolyn Gorajek '13 paced the offense with three goals and one assist. Gorajek leads the team with 15 goals.

Betsy Sachs '14 chipped in two goals, one assist, five draw controls and three caused turnovers for the Polar Bears. Mackenzie Schleicher '14 scored twice, Megan O'Connor '16 had one goal and one assist and Jordan Smith '14 was credited with an assist. Hannah Wright '13 scooped up four ground balls and Tara Connolly '13 made eight saves, including six in the first half.

Katie D'Antonio '14 posted two goals and one assist for the Continentals. Ashleigh Stephan '15 and Hannah Hoar '13 scored two goals apiece, and Kathryn Maiorano '14 finished with one goal and one assist. Madison Beres '15 and Lauren Brady '14 tallied one goal apiece, and Rachel Friedman '13 had one assist and five draw controls.

Mariah Monks '13 paced the Hamilton defense with four ground balls and four caused turnovers. Paige Engeldrum '13 recorded four ground balls and three caused turnovers, and Kari Koga '15 made seven saves.

The largest lead for either team was three goals as Bowdoin held a 5-2 advantage with 7:00 left in the first half. Stephan scored twice in 27 seconds and pulled the Continentals within 5-4 at the half. Beres tied the score just 39 seconds into the second half while the Polar Bears were down a player thanks to a yellow card.

Bowdoin (4-0 overall, 3-0 NESCAC) scored three of the next four goals and Sachs gave the Polar Bears an 8-6 advantage with her goal on a feed from Smith with 24:25 remaining in regulation.

Hamilton (3-2, 2-1) ran off three goals in a row again and took their first lead at 9-8. Hoar scored an unassisted goal, D'Antonio notched a goal on a pass from Maiorano and then D'Antonio found Maiorano with 12:59 left. Schleicher tied the score on a free-position goal with 10:13 remaining.

Bowdoin had the final possession in regulation after the Continentals committed a turnover with 14 seconds left. The Polar Bears took the ball from their defensive zone and just as they cleared it into the offensive zone, Hamilton's Alice Grant '14 was sent off for two minutes with a yellow card with 5.2 seconds to go. Bowdoin took advantage in overtime as Picard scored the man-up goal.

The Polar Bears held a 25-21 shot advantage and scored on 2 of 6 free-position shots. The Continentals took just one free-position shot. Bowdoin leads the all-time series, 7-3.

Hamilton travels to Florida where the Continentals will take on Buffalo State College in non-conference action on Monday, March 25. The Polar Bears play a NESCAC game at Bates College on Wednesday, March 27.