No. 12 women's lacrosse cruises past William Smith
---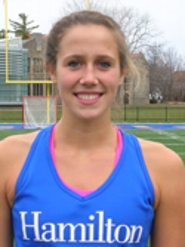 Hamilton College's Margaret Gabriel '16 tallied a team-high five points and the nationally ranked No. 12 Continentals rolled past William Smith College 19-10 in a non-conference game played at Syracuse University's Carrier Dome on March 14.

The game was moved from Hamilton's Steuben Field to the domed facility due to bitterly cold weather in Central New York. The Continentals (3-0 overall) have won nine consecutive games against the Herons dating back to 2006.

Gabriel finished with four goals and one assist in just her third game at Hamilton. She helped the Continentals to their highest offensive output since a 19-12 win against Connecticut College on April 14, 2012.

Rachel Friedman '13 posted three goals and one assist and led all players with five draw controls. She has 201 career points and became only the fifth player in program history to reach the 200-point mark.

Ashleigh Stephan '15, Katie D'Antonio '14 and Sara Berthiaume '15 finished with two goals and one assist each. Lauren Brady '14 and Kathryn Maiorano '14 chipped in two goals apiece, and Hannah Withiam '16 and Madison Beres '15 recorded the other goals. Caroline McCarthy '16 passed out one assist.

Hannah Haskell '15 scooped up a team-high seven ground balls and Paige Engeldrum '13 caused three turnovers. Dewi Caswell '14 made 10 saves in the win.

Marissa Potter '13 scored four goals and Katie Sipple '15 notched two goals and three assists to lead the Herons. Geneva Calder '16, Cat Gorman '15, Hannah Connolly '16 and Abbie West '15 recorded one goal each. Kathleen Ragan '13 tied a team high with three assists, and Connolly and Katie Dexter '13 added one apiece.

Rachel Hughes '15 corralled a game-high eight ground balls and caused two turnovers. Marina Guigle '16 stopped seven shots in 41-plus minutes and was relieved by Allie O'Hara '16, who made three saves the rest of the way.

William Smith (1-3) opened the scoring with Potter's first goal 3:15 into the first half. After Gabriel answered for the Continentals with 24:34 left in the half, Gorman put the Herons back on top 2-1 just 19 seconds later.

Hamilton scored five of the next six goals for a 6-3 lead the Continentals didn't relenquish. Friedman scored an unassisted goal, Berthiaume followed with a free-position goal and Gabriel scored her second of the night.

Nearly seven scoreless minutes went by until Potter found the back of the cage with a free-position goal and cut the Herons' deficit to 4-3. Brady added a free-position tally of her own with 3:47 to go in the first and Friedman scored her second goal 83 seconds after.

With 66 seconds left in the first half, Sipple scored on a feed from Dexter. Calder added a goal with only 14.8 seconds on the clock and pulled William Smith within 6-5. But Friedman won the ensuing draw control and found Maiorano on the left side for the goal with 3.6 seconds remaining. Hamilton held a slim 7-5 lead at the break.

The Continentals used the momentum from the end of the first half and scored eight unanswered goals over the opening 10-plus minutes of the second for a 15-5 advantage. During the decisive stretch, D'Antonio, Gabriel and Stephan all scored two goals, and Withiam and Friedman added one apiece.

William Smith finally found the net on Sipple's seventh goal of the year with 18:05 left. After a goal by Beres for the Continentals, Connolly and Potter scored 46 seconds apart and closed the gap to 16-8 with 13:19 left. However, the Hamilton defense shut out the Herons for the next seven-plus minutes, and goals by Berthiaume and Maiorano put the game out of reach at 18-8.

Hamilton outshot the Herons 36-23, and dominated draw controls, 22-8. The Continentals scored on 3 of 8 free-position shots, while William Smith converted 1 of 4.

The Continentals hit the road for the first time on Tuesday, March 19, when they travel to SUNY Oneonta for another non-conference game. William Smith heads south to play Springfield College in Orlando, Fla., on Tuesday.