No. 14 Geneseo men's ice hockey rides big 1st period to win
---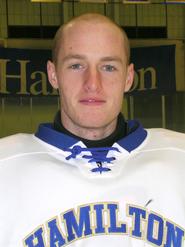 SUNY Geneseo scored five goals in the first period and the nationally ranked No. 14 Knights went on to a 5-1 non-conference win against the Hamilton College Continentals at the Clinton Arena on Jan. 24.

Box Score

Hamilton (4-9-1 overall) still leads the all-time series against Geneseo, 12-5-1. This was the first meeting between the two programs since the 1999-2000 season.

Zachary Vit '14 led the Knights (13-3-0) with two goals and raised his season total to a team-high 12. Justin Scharfe '15 chipped in his fifth goal and two assists. Scharfe leads Geneseo with 14 helpers.

Tyler Brickler '15 netted his 10th goal and AJ Sgaraglio '16 his fourth, and Jack Caradonna '15 was credited with a pair of assists for the Knights. Nick Horrigan '16 started in goal and made 13 saves in two periods. Matt Leon '17 started the third period and stopped 14 shots.

Truman Landowski '17 notched a power-play goal for the Continentals and Kenny Matheson '16 added his 10th assist. Charlie Fennell '17 made 12 saves in the first period and Zach Arnold '15 (pictured) turned away all 30 shots he faced in the final 40 minutes. Arnold was making his first collegiate appearance in goal.

Geneseo grabbed a 1-0 lead at 7:29 of the first on Sgaraglio's unassisted goal, and Brickler made it 2-0 just 1:19 later on assists from Scharfe and Stephen Collins '17. The Knights had a three-goal cushion at 10:46 when Scharfe scored from Matt Solomon '16.

Hamilton head coach Rob Haberbusch called a timeout after the Knights' third goal and tried to settle down the Continentals, but Geneseo scored again 59 seconds later. This time it was Vit from David Ripple '16 and Caradonna.

The Knights were whistled for a five-minute major for hitting from behind with 7:44 left in the first, and Hamilton took advantage of its long power play for the Continentals' lone goal of the night. Landowski made it 4-1 with his second goal this season with 3:51 remaining when he gathered an errant shot that bounced hard off the end boards and banged the puck into the net from the right side.

Vit rounded out the scoring on a power-play goal after passes from Scharfe and Caradonna with 38.3 seconds to go in the first. Geneseo ended up 1-for-5 on the power play and Hamilton went 1-for-6 on its opportunities. The Knights enjoyed a 47-28 shot advantage.

The Continentals travel to No. 10 Utica College for another non-conference game on Saturday, Jan. 25. Geneseo hosts Nazareth College on Saturday night.