No. 14 women's lacrosse falls to No. 6 Colby
---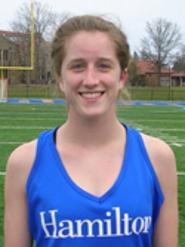 Nationally ranked No. 6 Colby College scored the last four goals and pulled out a 13-9 NESCAC victory against No. 14 Hamilton College at the National Training Center in Clermont, Fla., on March 27.

Kate Pistel and Katherine Eddy led the Mules with five points apiece. Pistel scored four goals and added one assist, and Eddy had three goals and a pair of helpers. Katie Griffin notched three goals and Hilary Barr, Lindsey McKenna and Alex Mintz tallied one each. Sarah Lux posted two assists and Dana Swaffield had one.

Swaffield and McKenna led the team with four draw controls apiece. Michelle Burt started in goal and made three saves in the first half. Claire Dickson relieved Burt at the break and made three stops.

Katie D'Antonio '14 recorded three goals, two assists and three ground balls for the Continentals. Rachel Friedman '13 contributed two goals and two assists. Ashleigh Stephan '15, Kathryn Maiorano '14, Margaret Gabriel '16 and Lauren Brady '14 scored one goal each. Dewi Caswell '14 made 10 saves in her first loss this season.

Colby (5-0 overall, 3-0 NESCAC) took a 2-0 lead just 2 minutes, 15 seconds into the first half on free-position goals by Eddy and Pistel. Hamilton responded with the next four goals and grabbed a 4-2 lead. Brady scored a man-up goal 3:33 into the half, Stephan scored a free-position goal 2:58 later and D'Antonio tallied two straight, including a free-position goal with 18:12 left.

The Mules tied the score on a pair of goals less than a minute apart. Eddy scored on a free position with 17:38 remaining in the half, and assisted on a goal by Pistel 54 seconds later.

Hamilton jumped back on top 6-4 with a goal by Gabriel on a feed from D'Antonio with 14:20 left and a Friedman goal with 10:16 to go. After more than seven scoreless minutes, Colby notched two late goals. Pistel passed to Griffin for a score with 2:42 to play in the first and Mintz scored the equalizer from Lux with 1:13 left. The score was tied 6-6 at the break.

Eddy opened the second half with a free-position goal, but the Continentals regained the lead at 8-7 on goals by D'Antonio and Friedman. Friedman assisted on D'Antonio's goal 4:58 into the half and then scored on a free position with 22:37 left.

Colby regained the lead on a goal by Griffin from Lux and a free-position tally by Pistel at 16:10. Hamilton tied the score one final time 2:28 later with Maiorano's goal on a pass from Friedman.

The Mules scored the last four goals, including three within a two-minute span. McKenna scored from Eddy at 10:40 and started the run. Swaffield won the ensuing draw control and found a wide-open Griffin, who slipped a shot by Caswell just 9 seconds later. Barr tacked on a free-position goal with 9:05 left, and Pistel rounded out the scoring with 7:39 remaining.

The Mules won 18 of 24 draw controls, and edged Hamilton 27-21 in shots. Colby scored six times on eight free-position shots and the Continentals found the back of the net on three out of eight opportunities.

Hamilton heads back up north to play at NESCAC foe Amherst College on Saturday, March 30.