No. 14 women's lacrosse tripped up at No. 11 Amherst
---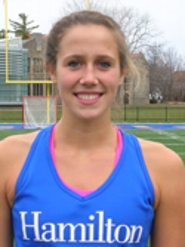 Amherst College's Priscilla Tyler recorded three goals and an assist and the nationally ranked No. 11 Lord Jeffs rolled to a 15-6 NESCAC victory over No. 14 Hamilton College at Amherst's Gooding Field on March 30.

Marta Randall, Caroline Holliday, Elizabeth Ludlow, Meghan Mills and Hillary Densen scored two goals each, and Randall added an assist for the Jeffs. Alex Philie scored a goal, dished out two assists and led the team with four ground balls and five draw controls. Sarah Spector contributed one goal and Mia Haughton was credited with one assist.

Fiona Dearth tied for the team lead with four ground balls and finished with a team-best two caused turnovers for Amherst. Goalkeeper Christy Forrest made seven saves and caused a pair of turnovers.

Margaret Gabriel '16 finished with three goals for Hamilton. Rachel Friedman '13 chipped in a goal and two assists. Katie D'Antonio '14 and Kathryn Maiorano '14 notched one goal apiece and Lauren Brady '14 tacked on an assist.

Paige Engeldrum '13 led the Continentals with four ground balls and two caused turnovers and Caroline McCarthy '16 had two draw controls. Kari Koga '15 turned away four shots.

Mills received a pass from Tyler and scored just 1 minute, 15 seconds into the contest. Holliday put the Jeffs up 2-0 on her free-position goal with 23:26 left in the first half. Gabriel cut the lead in half for the Continentals less than three minutes later when she scored on a feed from Brady. But Tyler tallied her first goal of the day from Philie just 48 seconds later, and sparked a nine-goal run for Amherst.

Amherst (5-2 overall, 2-2 NESCAC) scored three goals late in the half and took a 6-1 lead into the break. Mills notched a free-position goal with 5:01 left. Just under two minutes later, Haughton assisted on a goal by Tyler, and Randall beat Koga on a feed from Densen with just 1.2 seconds remaining in the half.

Amherst scored the first five goals of the second half and owned an 11-1 lead with 18:35 left. Randall scored 2:43 into the half, and then assisted on a goal by Densen 54 seconds later. Densen tacked on another goal 44 seconds later. Holliday added a goal with 20:20 to go and Ludlow scored a free-position goal for the 10-goal advantage.

Hamilton (4-4, 2-3) finally got back on the scoreboard with Maiorano's goal from Friedman midway through the second half. Tyler completed her hat trick with 14:43 left. The Continentals tallied two goals over a 35-second span and pulled within 12-4. Friedman scored and then assisted on a goal by Gabriel.

Spector scored with 8:12 left and Gabriel answered with her third goal of the day 46 seconds later for a 13-5 margin. Philie responded 38 seconds later with her first goal this year and put Amherst back up by nine. With 1:41 to go, D'Antonio sent a shot by Forrest, and Ludlow rounded out the scoring with 13 seconds remaining.

The Jeffs outshot Hamilton 25-17, and scored on 3 of 4 free-position shots. The Continentals were unsuccessful on their one free-position chance.

Hamilton returns home for another NESCAC contest against nationally ranked and undefeated Middlebury College on Wednesday, April 3.