No. 15 women's lacrosse starts season with win
---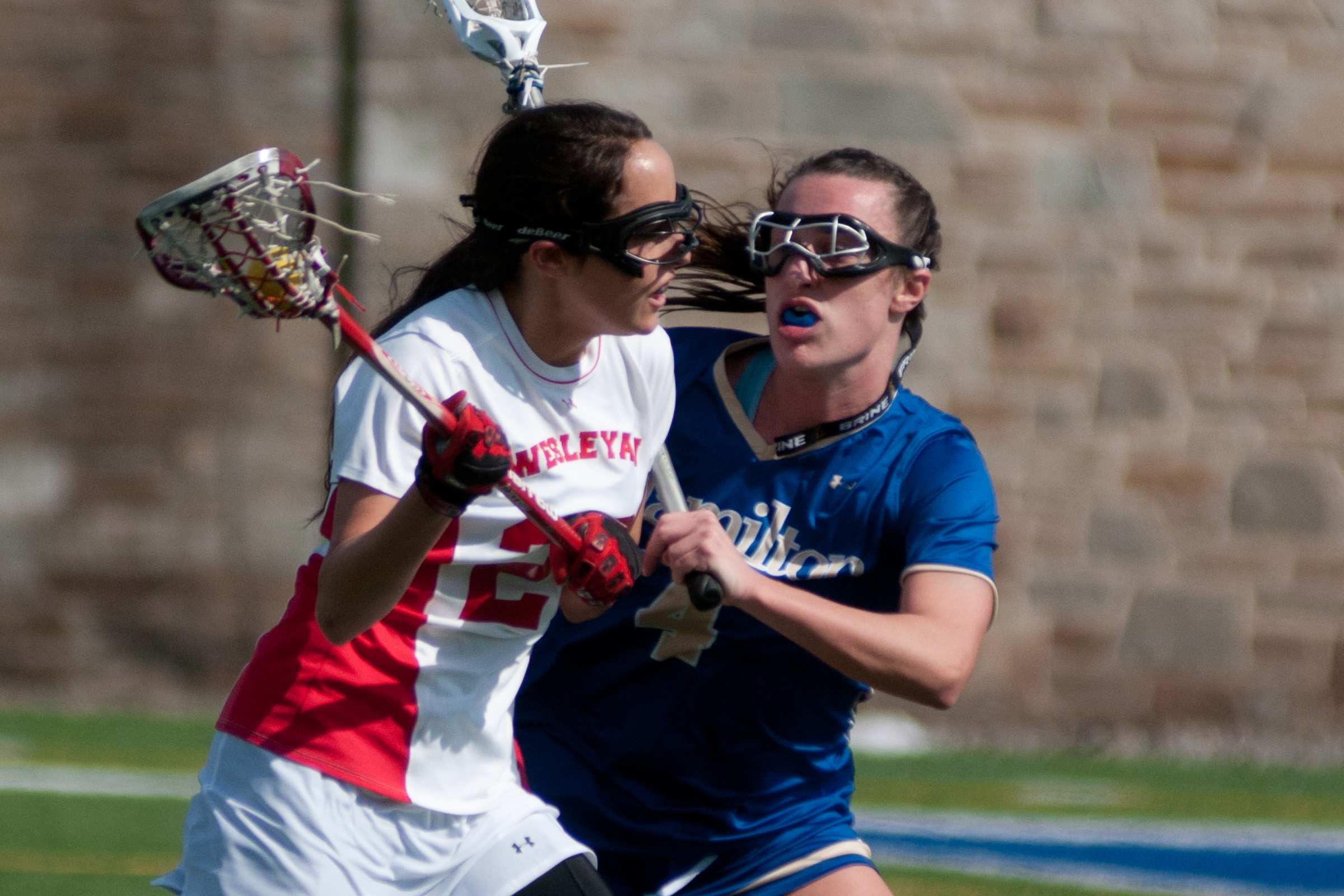 The nationally ranked No. 15 Hamilton College Continentals withstood a late rally by the Wesleyan University Cardinals and posted an 8-7 NESCAC win at Wesleyan's Smith Field on Saturday afternoon.

Box score
The game was the season opener for both teams and marked the sixth time in seven years the Continentals kicked off the year with a victory. Hamilton has won all four meetings between the programs.

Ashleigh Stephan '15 scored her second goal and put Hamilton ahead for good, breaking a 7-7 tie with 5:50 left in the second half. Stephan's game winner followed a run of three straight Cardinal goals in a span of 4:04 that tied the score.

Hannah Rubin '17 made six saves and earned the win in her collegiate debut. Emily Brodsky '14 scored a pair of goals (giving her 34 for her career) and sparked a 4-1 Hamilton run to open the second half as the Continentals pulled away from a 3-3 tie at intermission. Stephan and Casey File '17 added a goal during the stretch. File's tally was the first of her career.

Wesleyan's Abby D'Angelo '14 pulled the Cardinals within 7-5 with 16:10 left before Maddy Coulter '14, who led all players with three goals, and Martha Harding '16 added goals 41 seconds apart to forge the 7-7 tie.

Harding finished with a pair of goals. Hannah Plappert '16 also scored for Wesleyan, netting a goal 11 seconds into play off the opening draw.

Caroline McCarthy '16 tied the score at 1-1 for Hamilton 3:11 into the game with Lauren Brady '14 picking up the assist. Kathryn Maiorano '14 followed with her 26th career goal five minutes later to give the Continentals their first lead. After Coulter and Harding scored back-to-back Wesleyan goals, Hamilton's Taylor Ryan '17 scored her first career goal and sent the teams into the break tied at 3-3.

Alice Grant '14 led the Continentals with three caused turnovers. Grant and Rubin picked up a pair of ground balls apiece.

Wesleyan's Megan Kelly '17 led all players with four ground balls. Emily Gretsky '16 caused three turnovers off the bench and Nina Labovich '16 made six saves.

The Continentals are back in action with their home opener on Saturday, March 8, against Colby College at noon. Wesleyan hosts Eastern Connecticut State on Wednesday at 4:30 p.m.