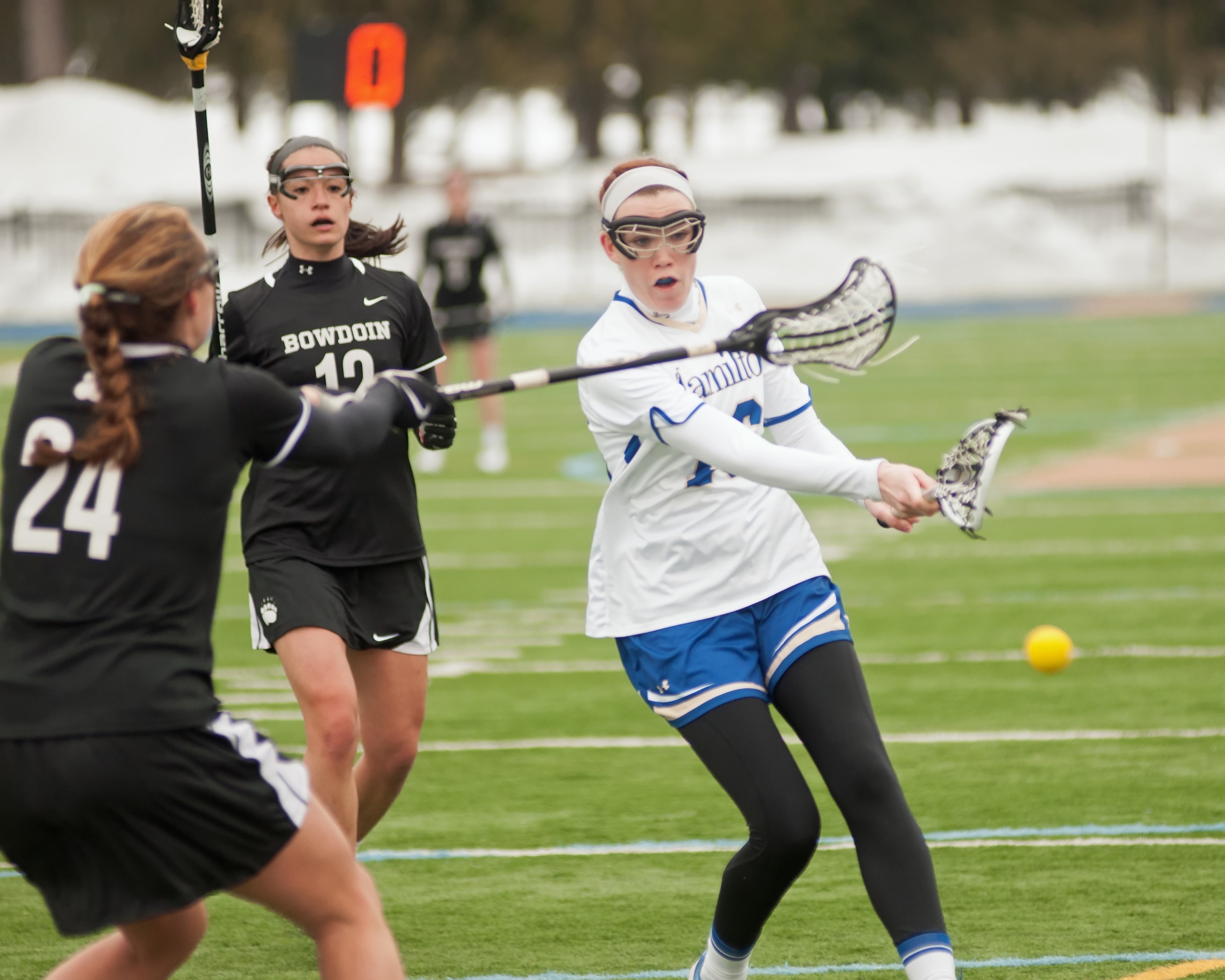 Hamilton College's Nora Klemmer '17 broke a 6-6 tie on her goal with 2:31 left in the second half and lifted the nationally ranked No. 15 Continentals to a 7-6 NESCAC win against the No. 7 Amherst College Lord Jeffs at Amherst's Pratt Field on Saturday afternoon.

Results

Hamilton (5-1, 3-1 NESCAC) is 2-1 against ranked teams this season. All three of those teams were in the top 10 when the Continentals played them. Hamilton entered the day ranked 33rd in Division III in scoring defense.

Klemmer is second on the team with eight goals this year. She scored four in 2014 as a first-year. Morgan Fletcher '17 finished with two goals, four ground balls and three caused turnovers. Margaret Gabriel '16 chipped in one goal and one assist. Ashleigh Stephen '15, Caroline McCarthy '16 and Hattie Duke '18 notched one goal each, and Emily Randall '16 was credited with one assist.

Hannah Rubin '17 made three saves and improved her record to 4-1 in goal. Stephan scooped up four ground balls and Gabriel added three ground balls and two draw controls. Hannah Withiam '16 and Madison Beres '15 helped lead the defense with two caused turnovers apiece.

Rachel Passarelli '16 paced Amherst (5-2, 1-2) with four goals. Meghan Mills '15 led the Jeffs' defense with three draw controls and three caused turnovers. Mills also scored a goal. Christy Forrest '16 stopped eight shots, including six in the first half.

Hamilton got on the board first as Fletcher found the back of the net just 2:23 into the first half. The Jeffs responded with back-to-back goals by Passarelli and Mills with 22:21 and 17:35 left in the half, respectively. The Continentals seized a player-advantage opportunity later in the half as McCarthy evened the score at 2-2 with 11:36 to play.

The Jeffs retaliated with consecutive markers for a two-goal lead. Passarelli registered her second of the day with 10:46 remaining, and Mia Haughton '16 found Claire Cagnassola '17 for the team's fourth score with 9:09 left. Fletcher cut Hamilton's deficit to one with 4:49 to play in the half and Amherst held a 4-3 lead at the break.

Hamilton started the second half with three unanswered goals and grabbed a 6-4 lead with 15:33 remaining. Gabriel scored 2:21 into the half but both teams were held scoreless for the next 10 minutes. At the 17:19 mark, the Continentals made the best of another player-advantage opportunity as Stephan found the back of the net off an assist from Gabriel. Just under two minutes later, Randall found Duke for another goal.

Amherst answered with back-to-back goals and tied the score at 6-6. Passarelli scored both unassisted with 9:41 and 5:16 left, respectively. After Klemmer's game-winning goal, Mills won the draw for the Jeffs but Hamilton's Fletcher caused a turnover with about 90 seconds to go and Stephan picked up the ground ball. The Continentals' clear attempt was successful and Hamilton kept possession for the final minute.

The Continentals held a 17-13 edge in shots and an 18-13 advantage in ground balls. Hamilton committed just 12 turnovers. The Jeffs scored three free-position goals while the Continentals were scoreless on two attempts. Amherst enjoyed an 11-5 advantage in draw controls.

Hamilton hosts Skidmore College for a non-conference game on Tuesday, March 24, at 5 p.m.