No. 16 women's lacrosse falls at Williams
---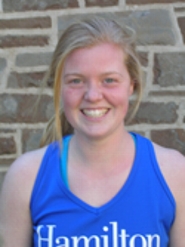 Williams College's Stephanie Gallo posted five goals and the Ephs pulled away from nationally ranked No. 16 Hamilton College in the second half for a 14-6 NESCAC win at Williams' Renzie W. Lamb Field on April 17.

The Ephs (8-5 overall, 3-5 NESCAC) outscored Hamilton 10-4 in the second half and leads the all-time series with the Continentals, 3-2. Hamilton is in sixth place in the NESCAC standings with one conference game left. The top eight teams advance to the 2013 NESCAC Championship.

Bridget Malicki tallied three goals and Rebecca McGovern added two goals and two assists for Williams. Natalie Gill picked up two goals and one assist. Sam Weinstein chipped in one goal and one assist and led the team with three draw controls. Maggie Maccallum added a goal and Maeve Mulholland passed out an assist. Emily Whicker scooped up two ground balls, Elizabeth Ryan caused two turnovers and Ali Piltch made 13 saves.

Emily Brodsky '14 netted three goals and won three draw controls for Hamilton. Katie D'Antonio '14 recorded two goals and Ashleigh Stephan '15 scored the other. Mariah Monks '13 and Hannah Hoar '13 finished with two caused turnovers apiece. Madison Beres '15 started in goal, made one save and collected three ground balls. Dewi Caswell '14 made her first appearance in goal in three weeks and played the entire second half.

Hamilton (7-6, 4-5) struck first on a goal by Brodsky 3 minutes, 11 seconds into the first half. Williams evened things up with 14:33 left in the half when Gallo scored off an assist from Weistein. Gill scored a free-position goal 44 seconds later and Weinstein added an unassisted goal with 12:21 to go.

Malicki gave the Ephs a 4-1 cushion on a free-position goal with 3:06 left. With only six seconds to go in the half, D'Antonio slipped a shot by Piltch that cut Hamilton's deficit in half at the break.

The Continentals pulled within a goal 2:19 into the second half on Brodsky's second goal of the night. Hamilton didn't get any closer as Williams scored the next three goals. Gallo scored 36 seconds after Brodsky's goal, and Gill and McGovern tallied free-position goals 44 seconds apart for a 7-3 lead with 20:48 left. Hamilton got one back on Stephan's unassisted goal with 19:54 remaining. But the Ephs scored the next six goals and put the game away.

Hamilton held a slight edge in shots (24-23), draw controls (11-10) and ground balls (12-9). Williams scored five times on seven free-position shots and the Continentals scored on just 1 of 5.

Hamilton hosts nationally ranked No. 1 Trinity College in its home and NESCAC regular season finale on Saturday, April 20.