No. 16 women's lacrosse downed by top-ranked Trinity
---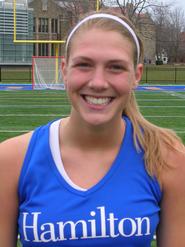 Nationally ranked No. 1 Trinity College jumped out to a 6-2 lead at the half and the Bantams held on for an 8-4 NESCAC win against No. 16 Hamilton College at Hamilton's Steuben Field on April 20.

Trinity (13-0 overall, 9-0 NESCAC) won its 21st straight game -- a streak that dates back to last year for the 2012 NCAA Division III champs. The cool, blustery conditions helped contribute to a combined total of 39 turnovers by the two ranked teams. Winds regularly exceeded 20 mph, and snow showers pelted the players during pregame warmups.

Megan Leonhard '13, Caroline Hayes '15 and Hadley Duncan '13 scored two goals each for the Bantams. Kaitlin Hildebrand '13 posted one goal and one assist, Lindsay Mullaney '15 chipped in a goal and Shea Kusiak '14 was credited with two helpers. Hildebrand leads the team with 15 assists and 42 points.

Leonhard was also a force on defense with four ground balls and two caused turnovers. Hillary McNamara '13 scooped up four ground balls, Martha Griffin '16 won three draw controls and Olivia Whitney '13 made four saves. Trinity's eight goals tied a season-low total that was originally set at Colby College on April 7.

Emily Brodsky '14 netted two goals and has scored five in the last two games for the Continentals. Rachel Friedman '13 tallied her 175th career goal to go along with three caused turnovers and two draw controls. Katie D'Antonio '14 potted her team-best 29th goal this year and Lauren Brady '14 had an assist.

Paige Engeldrum '13 picked up four ground balls and caused two turnovers for Hamilton. Madison Beres '15 recorded two saves, two caused turnovers and four ground balls. The Continentals held a 17-13 shot advantage, but scored on just 2 of 7 free-position shots.

The Bantams grabbed a 1-0 lead on Mullaney's ninth goal with 25:19 left in the first half. Hamilton responded on Brodsky's first goal of the day after an accurate, long pass ahead from Brady with 21:55 remaining.

Trinity scored the next three goals and took the lead for good. Hayes got a shot past Beres on a free-position opportunity, Leonhard scored on a feed from Hildebrand and Leonhard made it 4-1 on her 27th goal with 16:11 left.

Friedman pulled the Continentals within 4-2 on her free-position goal with 14:04 remaining, but the Bantams scored the last two goals before the break. Hildebrand tallied her 27th goal and Hayes scored her 15th with just 25.5 seconds left.

Hamilton (7-7, 4-6) struck first in the second half on a goal by D'Antonio that made it 6-3 with 27:04 to go. The teams went nearly 13 minutes without another goal until Duncan put one in from the doorstep on a Kusiak pass from behind the goal with 14:14 remaining.

Brodsky made it 7-4 on a free-position shot for her 13th goal with 5:50 left. Trinity won the ensuing draw control but turned the ball over and the Continentals had a chance to cut their deficit to two. But McNamara forced a turnover, Hayes picked up the loose ball and Duncan clinched the win with her 27th goal on a free-position shot with 2:12 remaining.

Hamilton is in seventh place in the NESCAC standings with no conference games remaining. The other 10 NESCAC teams have one conference game left. The top eight teams advance to the 2013 NESCAC Championship, which starts on Saturday, April 27, with the quarterfinals.

The Bantams, who entered the day allowing an average of 5.00 goals per game, lead the all-time series with the Continentals, 6-1.

Hamilton travels to Ithaca College for the regular season finale on Tuesday, April 23. Trinity goes to Amherst College for NESCAC action on Wednesday, April 24.